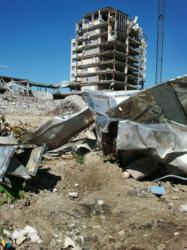 Joplin, MO (PRWEB) August 21, 2012
Fifteen months after an EF5 tornado ripped through Joplin, taking 161 lives and injuring hundreds, area residents can feel a little more closure. Demolition of St. John's Mercy Hospital is nearly complete, with another major portion falling yesterday, marking a significant step in the community's recovery.
The iconic hospital sat on the Joplin horizon for more than 40 years. A center that used to symbolize birth, healing and hope soon became a sore reminder of the deadly May 22, 2011, tornado that the community was struggling to recover from.
Because of mines under the property, a quick implosion was not an option. So, after each floor was cleared of debris, interior walls and windows, several different wrecking balls were used to knock exterior walls away. Grapplers have also been used to help remove steel beams, weakening the structure. Yesterday an 8,000-pound wrecking ball helped finish the job.
In the video below, the wrecking ball is seen striking the east tower, knocking clipped beams out and bringing nine stories down. As complete demolition videos become available, they will be posted at http://www.mercy.net.
Next step: remainder of the east tower. Demolition will begin soon and is expected to be finished in the coming weeks.
As demolition continues at the old hospital, Mercy is caring for patients at Mercy Hospital Joplin and construction is underway at the new Mercy Hospital Joplin, which is expected to open in 2015. Earlier this summer, Mercy revealed plans for the old hospital grounds, which include an elementary school and a park.