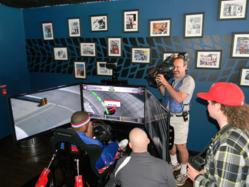 This simulator is spot on.
Bristol Motor Speedway (PRWEB) August 23, 2012
On a special episode of the Man Caves show, the crew revamps a luxury suite at Bristol Motor Speedway. The centerpiece of the Man Cave at Bristol is the SimXperience Stage V Motion Racing Simulator package.
Nascar Rookie of the Year, Ricky Stenhouse Jr. and other guests, stop by to take a spin in the the SimXperience Racing Simulator and give it a big thumbs up.
The show airs on the following dates and times on the DIY Network:
August 17, 2012 10:00 PM e/p
August 17, 2012 1:00 AM e/p
August 31, 201210:30 PM e/p
August 31, 2012 1:30 AM e/p
September 21, 2012 10:30 PM e/p
September 21, 2012 1:30 AM e/p