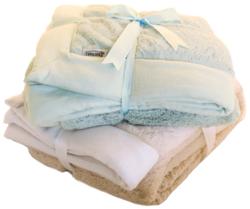 "It's the softest bamboo fabric we've created to date," said Aaron Hobson, Cariloha Executive VP of Marketing.
Salt Lake City, Utah (PRWEB) August 22, 2012
Cariloha claims its bamboo throw blanket is softer than any other throw blanket on the market today and invites Cariloha store customers to feel the difference for themselves.
These days, throw blankets come in all shapes, sizes, and fabrics and finding the right one for your bed or couch can be a challenge – maybe not as big a challenge as summiting Mount Everest, but a challenge nonetheless. To soften the search, Cariloha set out to develop and offer a blanket that's comfier than all the rest, using its unique bamboo-blended fabrics.
Bamboo is the material of choice for Cariloha's entire product line, and Cariloha introduced these new bamboo throw blankets to its entire Cariloha store and customer base worldwide earlier this month. The bamboo-based, satin-trimmed throw blankets are part of Cariloha's home and bedding line, which helps round out Cariloha's overall product mix even more.
"It's the softest bamboo fabric we've created to date," said Aaron Hobson, Cariloha Executive VP of Marketing. "The bamboo blanket passed our Soft Standard test, which guarantees each bamboo item is softer than any comparable item in its respective retail category – if it's not softer than anything else in today's marketplace, we don't introduce it."
To make this bamboo blanket even softer for the end customer, Cariloha added quilt batting to the blanket's interior core to provide a natural weight that you'd expect from a luxury blanket. They also sewed in custom-tailored stitch lines on the reverse side of the blanket to retain its shape and to hold the interior batting securely in place. According to Hobson, the plush-pile bamboo fabric makes the Cariloha blanket warmer in the winter and cooler in the summer – a more practical option for year round use.
"Cariloha bamboo blankets are more eco-friendly, hypoallergenic, and comfortable than other wool, cotton or cashmere throws, at a fraction of the price, too, making them an economical, smart choice for any household," Hobson said.
Bamboo Throw Blanket Specifics

Dimensions: 50" x 70"
Ribbon: Tone-on-Tone satin ribbon ties each blanket into a square
Made from 50% Bamboo, 50% Polyester
Machine wash cold, tumble dry low
Available Colors: Taupe and Silver Blue
Retail Price: $119
About Cariloha
Established in 2007, Cariloha is the only multi-store retailer in the United States to provide an entire store experience that's completely merchandised with products made of bamboo. The product line features an exclusive collection of apparel, accessories, home décor, bedding and bath goods and more all made from bamboo. Cariloha's soft, breezy bamboo goods were first seen out of three, full stores in Ocho Rios, Jamaica; Cozumel, Mexico; and St. Thomas, USVI. Since the first three stores in 2008, Cariloha has already opened stores in nine countries and growing. Cariloha has quickly become one of the fastest-growing merchants promoted on board Carnival, Celebrity, Disney, Princess, Royal Caribbean and Norwegian Cruise Lines. Today, thanks to an ever-growing, rich supply of bamboo, Cariloha continues to offer an exclusive collection of apparel, accessories, home décor, bed and bath sets and more all enjoying the strength, soft touch, and green 'footprint' of this renewable resource.