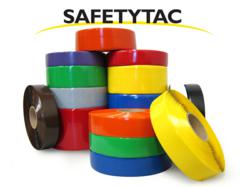 "We have driven trucks full of pallets weighing up to 4000 lbs over the SafetyTac tape numerous times and the tape did not tear, smear or crack. It is still in perfect condition as the day we installed it."
Lake Oswego, OR (PRWEB) August 25, 2012
Many vendors supply floor tape but none outshine SafetyTac Industrial floor tape offered through SafetyTac.com. It is considered the strongest and most durable floor marking tape for all industrial facilities. It holds up to the heaviest forklift and truck traffic imaginable. The word in the industrial market is the SafetyTac tape is unlike anything they have ever seen before. SafetyTac tape has proven to outlast any painted floor lines or cheap vinyl aisle marking tape. As one warehouse manager commented, "We have driven trucks full of pallets weighing up to 4000 lbs over the SafetyTac tape numerous times and the tape did not tear, smear or crack. It is still in perfect condition as the day we installed it." Installation was one of the top three reasons why this tape outshines paint. No need to close down aisles to paint and no more fumes, chipping, peeling and cracking that seems to happen overtime with paint. And no applicator is needed to install the tape.
SafetyTac marking tape is rated #1 when it comes to floor marking tapes. It is backed up by a 1 year warranty that you don't often see in the industrial market where heavy machinery traffic is a daily concern. The tape is the perfect solution for any floor marking project and is ideal for alerting workers where to be cautious in the workplace. It is a great product to keep your safety numbers up and accidents will decrease. More productivity and profit for the company.
To stay in compliance with OSHA floor marking standards, SafetyTac.com is committed to providing information and products that will assist every company to attain a safer workplace. SafetyTac offers a free floor marking guide outlining OSHA's floor marking standards to help facilities follow both the size and color charts that are required by OSHA and ANSI.
To learn more about industrial floor tape and OSHA standards, please visit SafetyTac at http://www.safetytac.com or call toll-free (888)246-6770.