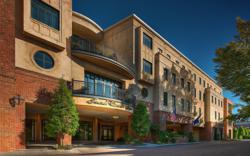 Charleston, SC (PRWEB) August 22, 2012
IHotel Marketing - a division of Myrtle Beach-based digital marketing firm Interactivity Marketing-generated an unheard of 49 to 1 paid search ROI during the month of July for The French Quarter Inn, located in Charleston, SC. The French Quarter Inn is operated by Charleston based hotel management firm Charlestowne Hotels, which contracts IHotel Marketing to provide paid search marketing services for many of its properties.
The French Quarter Inn is a AAA Four-Diamond Award winning property and has received numerous additional accolades including: TripAdvisor's "Top 25 Hotels in the United States 2012," 2011's Top Hotel in Charleston (as ranked by Conde Nast Traveler), and a spot in TripAdvisor's "Top Ten Luxury Hotels in the United States for 2011."
During the month of July, IHotel Marketing spent $566.18 on paid search for The French Quarter Inn and generated a revenue of $27,779.40 for a 4940 % return-on-ad-spend, or a 49 to 1 ROI. IHotel Marketing is currently averaging an industry-leading 24 to 1 ROI across all of its paid search hotel clients. Interactivity Marketing founder and president Gary Henderson attributes July's success to diligent account monitoring and management. "Our Digital Marketing Analysts touch every single one of our accounts every single day. We ensure that we are spending money wisely and effectively so that we generate the highest amount of return possible. All of our Digital Marketing Analysts are Google certified professionals and they are strongly committed to ensuring that our clients' campaigns are optimized for conversions."
Interactivity Marketing (and IHotel Marketing) are running a special on their paid search marketing services through October 1st. The agency is waiving its setup and monthly management fees for new clients who spend $500 or more per month on their ad-spend.
About Interactivity Marketing:
Headquartered in Myrtle Beach, South Carolina, Interactivity Marketing is a fully-integrated digital advertising and marketing agency that provides branding, print, web design and development, search engine and social media marketing, and marketing strategy services to clients across the nation. Regarded as one of the fastest growing digital agencies in the southeast, Interactivity Marketing continues to win business and break new ground by implementing quantifiable, measurable, and innovative creative marketing solutions and strategies for its clients.
About IHotel Marketing:
A division of Interactivity Marketing, IHotel Marketing provides digital and traditional advertising and marketing services for hotels throughout the United States. The division is currently averaging an industry-leading 24 to 1 ROI for its paid search marketing clients. In addition to paid search management, the division also offers services such as web design and development, search engine optimization, social influence marketing, email marketing, and fully managed eCRM.
About Charlestowne Hotels, Inc.:
Charlestowne Hotels, Inc. is a full-service hospitality management company offering innovative, yet proven, expertise in hotel development, operational controls, marketing and revenue management, and financial reporting. Founded in 1980 by Chief Executive Officer Everett L. Smith, Jr., Charlestowne Hotels has become one of the most successful firms in the hospitality industry, and one of the largest hotel management companies in the Southeast.