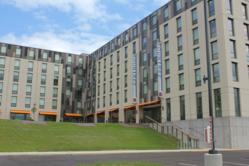 Birmingham, Alabama (PRWEB) August 22, 2012
Capstone On-Campus Management ("COCM") is pleased to announce it has been awarded the management of Rountree Commons, a 620-bed student housing community owned by the University of Wisconsin-Platteville Real Estate Foundation, and serving the students of The University of Wisconsin at Platteville ("UW-Platteville").
Rountree Commons, located adjacent to the UW-Platteville campus, is targeted to freshmen and sophomore students, and is fully-leased for the fall 2012 semester. The community was completed on August 1st and all student residents will be moved in by August 31st. Rountree Commons is a six-story facility, with first floor community space, which includes a laundry room, fitness center, group study area, and offices. The five residential floors provide a two bedroom / one bath living option, which houses four students in a shared bedroom arrangement. Each residential floor also has four Resident Assistant rooms.
The management agreement for Rountree Commons reflects a "shared governance" structure, in which COCM provides facilities services and assists with leasing responsibilities. COCM and the University are collaborating to provide a high quality residential experience for the residents.
About Capstone On-Campus Management
Capstone On-Campus Management is a company of housing professionals focused on providing management and consulting services for student housing owned by non-profits: colleges, universities, and non-profit foundations. The majority of communities managed are located directly on a college or university campus. Headquartered in Birmingham, Alabama, Capstone On-Campus currently provides management services for 23,228 beds at 22 campuses, reflecting $1.6 billion in assets. As a result, it manages more student housing owned by non-profits than any firm in the industry.