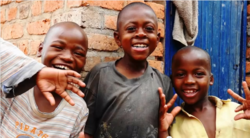 The favorite part of my business really is this program that we have to raise money... and hopefully I inspire my customers to do something like this in their own life or in their own business.
Boulder, CO (PRWEB) August 23, 2012
Boulder-based eCommerce site, equilter.com, has donated 2% of all sales directly to non-profits since opening in 1999. In July of 2012, their donations passed one million dollars.
Luana Rubin, co-founder and president of eQuilter.com, has always been committed to donating a portion of her income to charity, and realized when she started the company with her husband that there was an opportunity to give back on a larger scale. For a company that surpassed its 3-year business plan in just 60 days, it became apparent that eQuilter.com had the potential to make a real difference.
"About six months after we started eQuilter, I got the idea that we feel very blessed and that I'd like to be able to give some of that back," Rubin said. "We made a decision to give two percent of sales every month to charity every month -- and this is not a percentage of profit, and that's really important -- we make a commitment to give two percent of sales every month no matter what happens in our business. Back when we started it was probably closer to $25,000 first year, and now it's more like $100,000. And now we've topped a million dollars, and I still can't believe it!"
As an e-commerce site with a large selection of fabrics and related products designed for do-it-yourself quilting, eQuilter.com employs 34 people in Boulder, CO. In just thirteen years, and with the help of her husband and co-founder, Paul, Luana has taken eQuilter.com from the basement of her home to a 15,000-square-foot warehouse.
When it comes to donating, Rubin says she chooses the list of charities very carefully.
Recipients of donations include the National Breast Cancer Foundation and Engineers Without Borders. The NASA chapter of Engineers Without Borders works directly with eQuilter on a project at a Rwandan orphanage.
"eQuilter over the years has donated very substantially to our efforts," said Dr. Jack Bacon of the NASA Engineers Without Borders South Houston Chapter. "This helps us with our air travel and with the raw materials we need for the development efforts. Through their support, we have guaranteed fresh drinking water in the region."
Another one of the charities, Altrusa, brings direct assistance and care to Chinese orphans and hits very close to home for Luana and Paul as their daughter, Sophie, was adopted from a Chinese orphanage in 2003.
"The favorite part of my business really is this program that we have to raise money," Rubin said. "I feel like we're including all of our customers, so that they can feel like they've participated in this. Hopefully I inspire them to do something like this in their own life or in their own business."