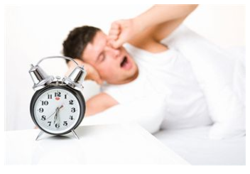 Wake Up On Time is the only product of its kind to help you wake up feeling energized and refreshed with no need to hit the snooze button on your alarm clock
Sparta, NJ (PRWEB) August 21, 2012
As the last lazy days of summer transition into fall days filled with schedules and routines, parents strive to get their sleep cycle back on track in an effort to wake up on time, ready for back to school insanity. Rise-N-Shine, LLC is giving parents a welcome wakeup call with Wake Up On Time, the "alarm clock inside of a pill" supplement designed to help parents wake up alert, refreshed and ready to get the kids off to school.
"I invented Wake Up On Time because I couldn't wake up in the morning to get my three children off to school," said Cathy Beggan, founder of Rise-N-Shine. "The change of pace at back to school time can be so disruptive to a family. It's important that moms and dads have their wits about them to handle anything the morning throws at them."
Wake Up On Time is a patent-pending pill that contains a proprietary blend of all-natural vitamins, herbs and amino acids. It boosts energy levels and immune systems, while elevating moods and enhancing metabolism. Taken before bed, the delayed-release coating allows the ingredients to slowly disperse throughout the body during an average person's sleep cycle. The result is a restful night's sleep without morning grogginess or sleepiness.
"Wake Up On Time is the only product of its kind to help you wake up feeling energized and refreshed with no need to hit the snooze button on your alarm clock," stated Beggan. "As a single parent, I am always burning the candle at both ends and I'm left feeling exhausted. Wake Up On Time has truly turned me into a morning person literally overnight."
Rise-N-Shine, LLC is a New Jersey based all-natural supplement company engaged in developing and selling proprietary, targeted supplements on the basis of meeting everyday needs naturally. Founded in 2006 by Cathy Beggan, the company has over twenty products designed to help people feel and look their best and can be found at http://www.wakeupontime.com.
# # #