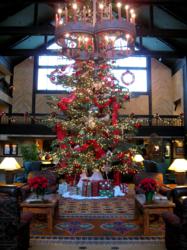 The holidays at Tenaya Lodge are filled with big events, sparkling surprises, and vacation values.
FISH CAMP, Calif. (PRWEB) August 23, 2012
Ready for a magical ride through sparkling Sierra wonderland? Tenaya Lodge at Yosemite has dreamed up a Holiday 2012/13 season filled with big events, brilliant activities, valuable lodging specials, and surprises at every turn. Tenaya Lodge will take you home for the holidays, Yosemite-style.
Tenaya Lodge at Yosemite, the all-season resort set two miles from the South Gate to Yosemite National Park, has a rich tradition of doing the holidays right, but this year may hit new heights. This warm and welcoming Yosemite hotel may be the closest place to the North Pole and Half Dome (and, with only one check-in required).
For starters, Tenaya Lodge holiday packages offer great values, such as the "S'more Ice Skating Package" including one night's accommodations, an ice skating session with skates and fireside s'mores, available Nov. 16, 2012 – Jan. 5, 2013 starting from $185/night.
Sometimes, getting away is the best gift of all, and Tenaya Lodge wraps you up in the Holiday Sugar 'n Spice Spa Package featuring the new first-class Ascent Spa at Tenaya Lodge. "Sugar 'n Spice" includes one night's accommodations for two, one 60-minute exfoliating brown sugar scrub and moisturizing body butter treatment, signature Ascent Spa cocktail, exotic fruit, truffles and cheese, and a 10% discount coupon towards spa products. Offered Dec. 1, 2012 – Jan. 5, 2013, the Holiday Sugar 'n Spice Package is available from $269/night.
With holiday-themed activities on the agenda during Thanksgiving Week and continuing for Christmas and New Year's Day, Tenaya Lodge transforms into a magical resort realm with abundant holiday cheer. The holidays get rolling with the grand opening of the Tenaya Lodge Ice Skating Rink (with complimentary hot beverages) on Nov. 21. On Thur., Nov. 22, guests awake to the dynamic aroma of traditional American cuisine filling the lobby. Thanksgiving Day dining options include the lavish Tenaya Grand Ballroom Thanksgiving Buffet (complete with amazing holiday décor and live music, Sierra Restaurant Thanksgiving Dinner Menu, and Embers Restaurant Thanksgiving Dinner for fine dining by candlelight and crackling fire.
Following big-screen Thanksgiving Day football in Jackalope's Bar, Tenaya Lodge's legendary Gingerbread House Decorating Workshops kick off on Friday, Nov. 23. This fun and competitive family event is repeated on Dec. 18 and Dec. 21 – it's Tenaya's version of "top gingerbread chef" and sure to inspire spicy competition. All guests can celebrate the winners with live entertainment and complimentary hot holiday beverages in Tenaya Lodge's soaring lobby each workshop evening.
On Sat., Nov. 24, Tenaya Lodge lights up a fully trimmed, 35-foot-plus, wild-harvested tree handpicked by resort staff. House-made cookies, complimentary hot beverages and live entertainment will help raise the tree (and the roof!) on this ever-enchanting evening. We have it on good authority that Santa Claus will be making an early appearance this evening as well, so get those wish lists ready.
Speaking of St. Nick, every Sunday in December Santa visits Tenaya Lodge's ice rink. In fact, Santa is basically "in the house" at Tenaya during the holidays with multiple opportunities for engagement, starting at Thanksgiving and continuing with Tenaya's Kid's Dinner with Santa packages offering children the chance to dine with Santa and his elves, giving them plenty of "face time" to get in all their special gift requests. It's two hours with the busy team of Tenaya elves leading special activities, games, crafts and an exclusive group dinner with Santa, available on Dec. 19, 22 and 23, with rates from $215/night.
Early December dawns whisper-quiet in the Yosemite Sierra, making Tenaya Lodge the perfect venue for a romantic escape from the shopping mall and office party circuit. The Fall in Love Romance Package starts with champagne and chocolate covered strawberries at check-in, and then sets you off on a romantic nature hike together. Later, after dinner by candlelight at Embers, more ambiance: your bed is covered in rose petals and chocolate kisses. Taking it to a new level? Upgrade to Tenaya Lodge's Escape to Romance package, including a Spa Suite with jetted tub and a highly romantic Chateaubriand dinner for two. Too in love to leave? The weekend Sleep in Sundays Package fits the bill with Deluxe accommodations, in-room breakfast for two, and late check out at 2 p.m. on Sunday afternoon.
Daily horse-drawn sleigh rides start Friday, Dec. 14 from Tenaya Lodge into snowy Sierra National Forest (conditions permitting), and holiday decorating workshops convene on Dec. 19, 20, 22 and 23, all leading up to the week of main holiday events.
In a double shot of long-weekend good fortune, Christmas Eve and New Year's Eve fall on Mondays this year. Tenaya Lodge's Sierra Restaurant and Embers Restaurant Christmas Eve Dinner Menus are dazzlingly delicious. Christmas Eve Cookie Decorating Workshop (don't forget to save one for Santa), live lobby entertainment, and Mrs. Claus' Bedtime Storytime will help get kids snug in their beds and well-rested for the big day ahead.
Christmas dawns early, and almost always white, in the frosty Yosemite Sierra. After early-morning festivities, guests can head outside for Tenaya activities like sledding, skating, and snowshoe hikes, or skiing at nearby Badger Pass Ski Area, before returning to the resort for complimentary hot beverages in the lobby and Tenaya Lodge's spectacular Grand Ballroom Christmas Day Buffet or Sierra Restaurant Christmas Dinner.
Tenaya Lodge keeps holiday spirits high between Christmas and New Year's with a series of new signature events. Ascent Spa at Tenaya Lodge will hold complimentary Spa Kids Holiday sessions three times daily on Dec. 28 and 30. Kids Spa includes a 45-minute skin care class where kids can sample and apply spa products, learn about hygiene and wellness, and spa services and tour Ascent Spa. Space is limited and a parent is asked to accompany Spa Kids ages 8 to 12.
In a new "twist," Kids Pretzel Making Workshops will be held on Dec. 27 and 29, and Tenaya Lodge will open The Game Room for guests to play a collection of video and board game competitions from Dec. 26 to 29.
New Year's Eve at Tenaya Lodge is a grand event, with holiday menus at both Sierra Restaurant and Embers, and a gala New Year's Eve Celebration in the Grand Ballroom to welcome in 2013. This year's theme is "Around the World," and it promises to be a world-class affair. Spend the day on the slopes at Badger Pass and come back to gourmet dining and a festive reception with live music provided by the Valley Cats, party favors, champagne toasts and midnight balloon drop. Kids can enjoy their own separate New Year's Eve bash, as well.
Tenaya Lodge will welcome New Year's Day with its Champagne Breakfast Buffet at Sierra Restaurant. The best way to ring in 2013 at Tenaya Lodge is with the Yosemite New Year's Eve package, including one night deluxe or cottage room accommodations, two tickets for Tenaya's New Year's Eve celebration including dinner, party favors, midnight champagne toast, and a convenient late VIP check-out at 1:00 p.m..
For more information, call toll-free, (888) 514-2167, or visit TenayaLodge.com/Holiday for vacation packages and TenayaLodge.com/HolidayEvents for holiday events and activities.
About Tenaya Lodge at Yosemite
Tenaya Lodge at Yosemite is an all-season resort framed by noble evergreen forest and a rich range of Sierra recreation. The lodge, set adjacent to Yosemite National Park's South Gate at an elevation of 5,288 feet, offers 297 rooms, suites and mountain cottage accommodations. Tenaya Lodge offers easy access to Yosemite's iconic attractions, and many guests savor the alpine serenity of the new Ascent Spa at Tenaya Lodge. Resort dining options run the table from casual to candlelit at Sierra, Jackalope's, Timberloft and Embers restaurants.
About Delaware North Companies Parks & Resorts
Delaware North Companies Parks & Resorts is an industry leader providing Stewardship and Hospitality in Special Places SM, with hotel, retail, food service, recreation and transportation operations at historic and scenic properties in North America and Australia. The company operates Kennedy Space Center Visitor Complex and in Yellowstone, Grand Canyon, Sequoia and Yosemite national parks, including The Ahwahnee and other Yosemite lodges; Tenaya Lodge at Yosemite; Harrison Hot Springs Resort & Spa in British Columbia; Niagara Falls State Park; The Lodge at Geneva-on-the-Lake in Ohio; Gideon Putnam Resort in Saratoga; Holiday Inn West Yellowstone, Gray Wolf Inn & Suites and Yellowstone Park Hotel. The company also owns and operates five luxury resorts in Australia: Lizard Island Resort, Heron Island Resort, Wilson Island Resort, Kings Canyon Resort and El Questro Homestead and Wilderness Park.