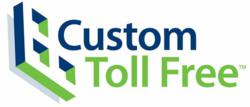 "Our Partnership with Call Button brings a powerful combination of quality toll free numbers and call reporting features that are certain to enhance marketing campaigns and make marketing more effective."
-- Christy Green, VP of Sales & Marketing
Las Vegas, Nevada (PRWEB) August 21, 2012
Connecting businesses with success, sales, and better branding, Custom Toll Free will be represented in full force at the Electronic Retailing Association's (ERA) Direct-2-Customer Convention running from September 11th through 13th, 2012. Run by the only trade association with U.S. and international scope that represents today's leaders of the direct-to-consumer marketplace. The ERA will be showcasing ways for businesses and affiliates alike to maximize their revenues through the realm of direct-to-consumer marketing through conventional means such as television and radio as well as modern methods such as online and mobile applications.
The strategic partnership with CallButton allows advanced call tracking, routing, and reporting features to be paired with quality toll free numbers for a better customer experience. CallButton customers can execute real-time changes, calculate real-time ROI, and get custom branded reporting. Custom Toll Free clients have access to the best quality true 800 numbers for better customer recall and higher response rates. "Our Partnership with CallButton gives clients a powerful combination of quality toll free numbers and advanced call tracking and reporting features that are certain to enhance marketing campaigns and make marketing dollars more effective," says VP of Sales and Marketing for Custom Toll Free, Christy Green.
The ERA D2C Convention, renamed from the ERA Annual Convention in 2009, has been held every year in Las Vegas since 1990 shortly after the birth of the infomercial. As the direct-to-consumer industry ballooned in success and numbers, the convention has grown to feature over 4,000 attendees, exhibitors, and sponsors seeking maximum ROI and sponsorship opportunities. The show will be held at the Wynn Las Vegas Hotel and is entirely sponsored by the Electronic Retailing Association itself. All show proceeds will be used to fund all industry and member services. Official updates regarding the event will also be available through social media outlets such as Facebook, Twitter, Flickr, YouTube, and LinkedIn as well as an official video blog provided by Dave Martin.
About CallButton:
Leveraging technology toward higher service, CallButton is not just a Seattle-based technology business in love with its own technology, but rather one that shares a higher passion for serving people with technological solutions. An independent, innovative and growing company with the same original management team since first spinning off from Dallas-based Intelemedia Communications.
For more information regarding the Electronic Retailing Association's Direct-2-Consumer event can visit the official website at http://www.d2cshow.org, the official site at http://www.retailing.org or place a call—toll free—at 1800 987 6462.