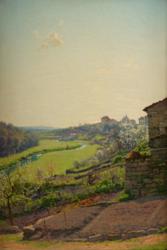 A work of art does not appeal to the intellect. It does not appeal to the moral sense. Its aim is not to instruct, not to edify, but to awaken an emotion.
~ George Inness
Charlotte, NC (PRWEB) August 30, 2012
McColl Fine Art, an art gallery in Charlotte, North Carolina, is regarded as one of the premier art galleries in the country. The gallery features a comprehensive selection of both American and European paintings, with a focus on 19th and 20th century art. In addition to these more historical works, McColl Fine Art is now announcing the arrival of a new collection that features paintings in the classical contemporary style by several modern artists.
McColl Fine Art is proud to bring these unique works to its gallery, as they provide a unique bridge between the styles of the past and the present. The new collection includes paintings and other works done in a variety of styles reminiscent of many of the greatest American and European movements. The collection features works representing a number of different periods, including the Barbizon School, the Hudson River School, and Impressionism. Also represented are many contemporary academic works, as well as still life paintings.
What makes this new collection unique is that McColl Fine Art has brought together a variety of pieces by some of the most noteworthy artists of the current generation. This has brought a contemporary flair to the traditional styles and schools, with the artists providing their own personal spin on classic ideas. McColl Fine Art is proud to offer this collection and has worked diligently to ensure that only the highest quality museum-worthy paintings were selected. Working closely with the represented artists, the fine art gallery hand picked their finest works to display. Visitors and art lovers are encouraged to visit McColl Fine Art to view this one-of-a-kind collection in person.
About the company:
McColl Fine Art is one of the premier art galleries in the Country. Located at 126 Cottage Place in Charlotte, NC, McColl Fine Art specializes in fine American and European paintings with a primary focus on select works from the 19th and early 20th Centuries, as well as Classical Contemporary works of art. They offer works of exceptional quality from periods including the Barbizon School, the Hudson River School, Academic painting, Impressionism and Post-Impressionism. For more information visit their website at http://www.mccollfineart.com.