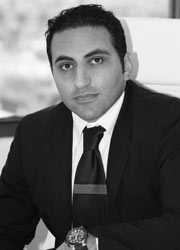 Kevin is an incredibly talented attorney who is one of the young leaders in the personal injury arena.
Beverly Hills, CA (PRWEB) August 21, 2012
For the second straight year, personal injury attorney Danesh has been selected to the prestigious list, which is an honor reserved for those lawyers who have shown excellence in practice. No more than 2.5 percent of lawyers in Southern California are named to the Rising Stars list, the only requirement (other than a track record of excellence in their practice) being that they are either 40 years old or younger, or in practice for ten years or less.
The complete listing is published online at http://www.superlawyers.com, and appears in both the July edition of Los Angeles magazine and the published 2012 Southern California Super Lawyers – Rising Stars Edition.
To develop the annual listing, researchers with Thomson Reuters' Legal division solicit nominations from attorneys across the state, perform independent research and collect additional evaluations from top attorneys in Danesh's practice area. The resulting list is especially prestigious, with no more than 2.5 percent of eligible lawyers earning the distinction each year.
Kevin Danesh is a co-founder and partner at the Law Offices of Banafsheh, Danesh & Javid, P.C. he graduated with Magna Cum Laude honors from University of California Los Angeles. Kevin is admitted to practice before the California Supreme Court, the United States Court of Appeals for the Ninth Circuit, the U.S. District Court, Central District of California, and California Superior Court.
Kevin handles high profile personal injury claims that come through the firm's doors, specializing in car accidents, truck accidents, motorcycle accidents, slip and fall and dog bite cases. According to the law firm's website at http://www.bdjinjurylawyers.com, he has personally recovered more than $50 Million on behalf of his clients.
"Kevin is an incredibly talented attorney who is one of the young leaders in the personal injury arena." says firm co-founder and partner Sean Banafsheh. "What makes Kevin remarkable is his ability to manage the complexities of the various aspects of law in the cases before him, while maintaining a level of compassion and empathy for our clients that few can match. We couldn't be prouder of Kevin for earning this honor."
About Banafsheh, Danesh & Javid, P.C.
Banafsheh, Danesh & Javid, P.C., is a well-respected Beverly Hills, CA personal injury law firm that serves clients throughout California. The firm maintains offices in Los Angeles, Orange County, San Francisco, San Diego, Riverside, San Bernardino, San Jose, and Sacramento. The firm handles cases on a contingency fee basis, not charging a fee unless they can gain a recovery for their clients. They practice all form of personal injury law including but not limited to truck accidents, motorcycle accidents, car accidents, pedestrian injuries, brain injuries, wrongful death and other serious injury claims.
The firm's staff also speaks Spanish, Italian, Farsi and Hebrew in addition to English and offer free consultations via their toll free number 800-820-1111.