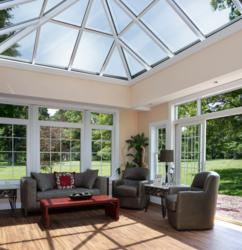 More than just a room with a glass roof, the Hampton Room is a unique building concept that exceeds expectations and totally redefines the room addition.
Holbrook, NY (PRWEB) August 22, 2012
Four Seasons Sunrooms and Windows, known worldwide as the premier year-round glass room addition manufacturer, has revolutionized the room addition industry again with the introduction of its new Hampton Room addition.
Combining the strongest and most energy efficient building technologies with Four Seasons' industry leading glazing technologies, the Four Seasons Hampton Room bridges the gap between a contemporary sunroom or conservatory and a traditional room addition. Four Seasons new Hampton Room can create breathtaking new living space on any home or building. With more privacy than an all-glass sunroom or conservatory and more dramatic light than a traditional room addition, the Four Seasons Hampton Room brings the best of both worlds to homeowners everywhere.
"The Hampton Room is the culmination of years of research and design," Peter Allen, Four Seasons Sales and Marketing director said. "Having well established ourselves as the premier year-round glass room addition manufacturer, we raised the bar to create the next generation in room additions."
Advanced Technologies for Strength, Efficiency and Flexibility
Four Seasons Hampton Room uses Structural Insulated Panel (SIP) technology for its wall structure and combines that with Four Seasons line of energy-saving windows to provide the flexibility of window placement and sizing that is not usually possible with a standard sunroom. SIP technology is considered superior to stick-frame construction because the panels are manufactured in climate-controlled conditions where workers have access to advanced tooling and machinery not available to workers on an exterior construction site. The result is a wall system with consistently superior strength and efficiency, with the most advanced insulating properties available.
Using SIP technology with Four Seasons Energy-Saving Windows and Doors provides homeowners with a level of flexibility and customization within an economical modular framework that is not available in a standard sunroom or conservatory addition. This construction method also makes it simple to match the exterior siding and interior finishes of the new addition to the existing structure, enabling the Four Seasons Hampton Room to appear to be an integral part of the home and not an add-on afterthought.
"We're very proud of our new Hampton Room," Allen said. "It really combines the latest proven building technologies to create a versatile, efficient room addition for any purpose. We really think it's a thing of beauty. And because it's so versatile and flexible, it can really match any home or any use imagineable."
Aside from its outstanding beauty, perhaps the most dramatic aspect of the Four Seasons Hampton Room is its roof. Utilizing Four Seasons' most advanced glazing technology, the roof and ceiling of the Four Seasons Hampton Room is breathtaking in its beauty while allowing dramatic natural light to fill the space and bring light deep into adjoining rooms. Adding additional height to the room and expansive views of the daytime or nighttime sky, the Hampton Room perimeter glass roof system is elegant, stylish and super energy efficient.
Glazed with Four Seasons exclusive, industry leading glazing technology, CONSERVAGLASS SELECT™, the roof is as efficient as it is beautiful. CONSERVAGLASS SELECT helps keep the heat out in summer and the cold out in winter to keep occupants more comfortable and the heating and cooling bills more affordable. CONSERVAGLASS SELECT even features Stay-Clean Technology to keep the glass cleaner longer and reduce homeowners' glass cleaning maintenance.
The roof system that supports the CONSERVAGLASS SELECT is also industry leading. Unique to the Four Seasons Hampton Room is a two-tiered roof manufactured in structural grade aluminum for strength, safety and durability and then capped and clad with low-maintenance vinyl to provide a clean, sleek appearance that minimizes any obstructions of the homeowners' views of the heavens above. This roof system features an integrated ventilation system to help homeowners create a comfortable environment inside, no matter what the weather is outside.
Four Seasons new Hampton Room is so versatile it can be used for any room in the house, from a living room, den, family room, dining room, kitchen – or even a bedroom or master bath suite. The uses are only limited by a homeowner's imagination.
Four Seasons continues to push the envelope in room addition design and technology. The new Four Seasons Hampton Room has reset the bar and established a new standard for room addition design, structure and functionality.