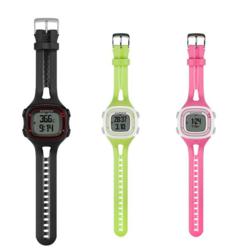 There are lots of exciting new
products being released by Garmin this Fall
Bozeman, MT (PRWEB) August 28, 2012
The new Garmin Forerunner 10 is the newest Garmin GPS watch release and offers runners and walkers the ability to receive real-time speed and distance data, along with maps on Garmin Connect after the workout according to the Heart Rate Watch Company.
"While the Garmin Forerunner 10 does not offer any heart rate data it is ideal for athletes that don't want heart rate or don't like to wear a chest strap and would just like to get accurate pacing data," says Rusty Squire, President of the Heart Rate Watch Company. He adds, "This watch does allow post-exercise maps and delivers pacing data all at the lowest price point ever for Garmin."
Athletes that want heart rate can upgrade to one of many different Garmin options like the Garmin Forerunner 910XT for triathlon, the Garmin 610 for runners and cyclists, or the Garmin 210 for runners.
The new Garmin 10 will be available in October 2012 and should be a good seller for the Holiday season for users that strictly want pacing and distance information. "It's exciting to see Garmin get down to the $129 price point on GPS fitness products, this has never happened before," says Squire.
Garmin also has the new Garmin fenix high GPS with on screen maps just like a handheld coming out for the outdoor enthusiasts and it is rumored that there is a new version of the Garmin Edge 800 bike computer due out this Fall as well. "There are lots of exciting new products being released by Garmin this Fall and of course we are all looking forward to the final launch of the Garmin Vector power pedals as well," says Squire.
The new Garmin Forerunner 10 is the simplest ever GPS to operate, acquire satellites and go. "This simplicity of operation thing is big with GPS watch users and the fact that the new Forerunner 10 will offer calorie data as well is also important," says Squire.
Heart Rate Watch Company has the new Garmin Forerunner 10 up on their website and is taking advanced orders now.