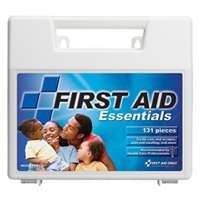 Destin, FL (PRWEB) August 22, 2012
Labor Day weekend for most Americans is a short-lived, but well-deserved vacation, typically associated with outdoor activities like camping, grilling, and boating. Mike Fisher of Disaster Relief Supply, an emergency preparedness retailer, compiled a list of 4 tips for a safe Labor Day weekend.
1. First Aid is the most important safety principle to keep in mind. Accidents happen, especially when young children or elderly friends and family members are involved in potentially dangerous outdoor activities including swimming and boating. Take the extra precaution and be sure to keep a first aid kit handy during any activity. Fisher recommends a medium sized kit of about 130 pieces. "A 131 piece kit for example is inexpensive, about $15-$20," Fisher claims, "and typically includes the essentials of assorted bandages, disinfectant, antibiotic and Benadryl lotion, and non-prescription pills like ibuprofen."
2. Skin protection is imperative when outdoors. Skin damage can be as innocent as light sunburn or as serious as an illness through contact with an insect (and with the recent outbreak of West Nile in Texas, the latter should not be dismissed). Sun damage, poison ivy, and insect bites are the main culprits of skin damage while outdoors.
Sun damage is easily prevented with a tube of sunscreen or sunblock. Sunscreen is inexpensive and available at most drug stores or supermarkets. The sun can be especially harmful to young children. When spending a day outside with small children (especially infants and toddlers), remember these simple rules from The American Academy of Pediatrics (http://www.aap.org) and the Skin Cancer Foundation (http://www.skincancer.org):

Limit sun exposure between 10am-4 pm. That's the time of day when UV rays are at their strongest.
Keep babies under six months old out of direct sunlight.
Use a sunscreen made specifically for children with an SPF of 15 or higher. Look for broad spectrum sunscreen that shields both UVA and UVB rays.
Take precautions against the sun even on cloudy days. (UV rays do penetrate the clouds.)
Choose kids' sunglasses with at least 99% UV protection.
Dress kids in sunhats or caps with brims that shield little faces.
Although insects like mosquitos are typically dismissed as a nuisance, the effects of a bite from an infected bug can be devastating. For this reason, follow these guidelines from The Texas Department of State Health Services to avoid bites from the pesky blood-suckers.
Use insect repellent containing DEET, picaridin, or oil of lemon eucalyptus.
Dress in long sleeves and long pants when outside
Stay indoors at dusk and dawn, when mosquitos are most active
Drain standing water where mosquitos breed. Common breeding sites include old tires, flowerpots, and clogged rain gutters.
3. Practicing fire safety while outdoors can prevent serious harm. Having a proper fire extinguisher nearby, as well as following these fire safety tips from direct.gov.uk, will help grillers and campers extinguish the chance of fire damage.
When Barbequing:

Make sure the barbecue site is flat and away from fences, trees and sheds
Keep a bucket of water or a garden hose nearby, in case of emergencies
Use only enough charcoal to cover the base of the barbecue to a depth of about 2 inches
Never use gasoline to start or revive a barbecue – use only barbecue fire lighters or starter fuel on cold coals
When you have finished cooking on a gas grill, turn off the gas cylinder before turning off the barbecue controls – this means any gas in the pipeline will be used up
When Camping:

set up tents at least 20ft apart and away from parked cars
don't use oil-burning appliances, like lanterns, or candles in or near a tent – flashlights are safer
place the cooking area well away from the tent
keep the cooking area clear of items that catch fire easily ('flammable' items), including long, dry grass
If a fire does happen to start in a campsite, get everyone out quickly – fires in tents spread very quickly
4. Nothing puts more of a damper on a camp outing than bad weather. Being confined to a tent for an afternoon is bad, but without waterproof gear things can get a lot worse. Rain gear including coats, pants, boots, ponchos, and waterproof shelter, is a must-have for any weekend outdoors. Also, be sure to bring along a heat source (gas is preferred), rain or wet fire starting components can make fire starting difficult or even impossible.
Labor Day weekend is a time for fun, and a final taste of what summer has to offer. Disaster Relief Supply hopes that these 4 tips will keep work-weary Americans safe and happy during the upcoming holiday.