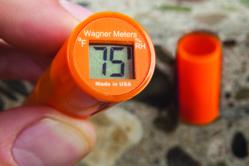 Wagner is committed to market leadership in the accuracy and currency of our testing products.
Rogue River, OR (PRWEB) August 28, 2012
In response to the ASTM changes in the F2170 standards, Wagner has modified and improved its Rapid RH® product to maintain alignment with the industry's guidance. This revised standard (http://www.astm.org/Standards/F2170.htm) calls for numerous changes to the various RH testing products in the market, but with the existing, superior design of the Rapid RH, the only change necessary was to ensure the RH test "sleeve" fully lines the entire test hole.
The Rapid RH® 4.0 EX concrete test measures internal concrete humidity. The Rapid RH® tests equilibrate so quickly and accurately that a reading taken one hour after installation will be within 3% of its final reading. In addition to providing quick and accurate readings, the Rapid RH® is also affordable and easy to use. NOTE: Always refer to ASTM F2170 for specific installation requirements.
Wagner took this opportunity to solicit input from field professionals to ensure the installation experience was as favorable as possible. As a result from field feedback, we took this opportunity to redesign the installation tool for the Smart Sensors.
The installation tool:

is not just for inserting a Smart Sensor. The insertion tool allows professionals to ensure correct size and uniformity of the hole.
is ergonomically superior to previous insertion tools.
"Wagner is committed to market leadership in the accuracy and currency of our testing products," said Jason Spangler, Wagner's Rapid RH product specialist. "Wagner works in partnership with our end users and industry associations to ensure our products are user-friendly, practical and yet still compliant."
About ASTM International:
The American Society for Testing and Materials International (ASTM) is the world-wide leader in the development of international voluntary consensus standards. Twelve thousand ASTM standards are used around the world to improve product quality, enhance safety, facilitate market access and trade and to build customer confidence.
About Wagner Meters:
Wagner Meters creates solutions in the field of moisture measurement technology to provide and enhance quality products. As a world leader in moisture measurement for nearly 50 years, Wagner Meters uses what works. From Relative Humidity testing (http://www.wagnermeters.com/concretemoisture.php), to designing the first solid-state, non-contact, in-line moisture detector (http://www.wagnermeters.com/largelumber.php), Wagner Meters sets the standard for reliability and accuracy in moisture measurement.