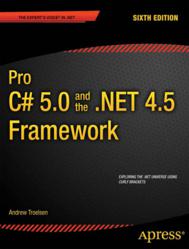 New York, NY (PRWEB) August 22, 2012
Andrew Troelsen maintains his reputation as an authority on the C# language with his long-awaited sixth edition of "Pro C# 5.0 and the .NET 4.5 Framework," released by Apress Media today. This book has been the leader in C# books since the first edition was released in 2001 and continues to be the most all-inclusive resource available for developers.
Troelsen's latest edition is the definitive guide on how best to use C# 5.0 together with the .NET 4.5 Platform. Microsoft's newest release has resulted in improvements across the whole scope of the technology. Troelsen has updated his book from cover to cover with particular emphasis upon the changes taking place with Windows 8, WPF 4.5 and Visual Studio 2012–all which are expected to greatly affect developers.
At a whopping 1,560 pages, "Pro C# 5.0 and the .NET 4.5 Framework" is a must-have for anyone that wants an all-encompassing reference guide to meet the day-to-day questions that will arise from the updates of these programs. This book is targeted to experienced software professionals or graduate students of computer science who are interested in the .NET Framework and C# language. Troelsen's title can also be utilized by those developers who are using .NET for the first time or those writing applications using previous .NET versions, since it gives a well-rounded picture of Microsoft's new technology.
For more information on "Pro C# 5.0 and the .NET 4.5 Framework" , please visit http://www.apress.com/9781430242338.

ISBN 978-1-4302-4233-8
1600 pages
User Level: Intermediate to Advanced
Publication Date: August 22, 2012
Available eBook Formats : EPUB, MOBI, PDF
Print Book Price : $59.99
eBook Price: $41.99
About the Author
Andrew Troelsen is a partner, trainer, and consultant at Intertech Inc., and is a leading authority on both .NET and COM. His book Pro C# 2005 and the .NET 2.0 Platform won the prestigious 2003 Referenceware Excellence Award. Troelsen has a degree in mathematical linguistics and South Asian studies from the University of Minnesota, and is a frequent speaker at numerous .NET-related conferences. You can check out his blog at Intertech.com.
About Apress Media
With more than 1,000 books in print and e-formats, Apress is the authoritative source for IT professionals, software developers, and business leaders all over the world. Apress provides high-quality, no-fluff content that helps serious technology professionals build a comprehensive pathway to career success. Since 2007, Apress has been part of Springer Science+Business Media, one of the world's leading scientific, technical, and medical publishing houses, enabling global distribution of Apress publications. For more information, please visit http://www.apress.com.