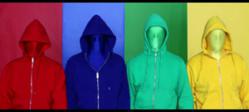 The "1, 2, 3, 8" single is available for download on iTunes as well as the OK!Good website.
Teaneck, NJ (PRWEB) August 22, 2012
"1, 2, 3, 8" is a taste of new music from chromatic BLaCK following their 2010 self-titled debut. The band experimented outside their traditional punk sound, and fused together post-punk and garage band styles of artists such as The Strokes, The White Stripes, and The Vines. The new single features a steady rock beat, warm guitars, and front man Daniel R. Mueller's raspy voice.
Meanwhile, the single's b-side, "EXTREME," is aggressive in-your-face punk the band's older fans know and love. Fans of punk and garage rock will enjoy this delicious sample of chromatic BLaCK's new material.
The song's music video shows the band rocking out in tight body suits and hoodies against colorful backdrops featuring a red, blue, green, and yellow color scheme. The "chromatic" colors are meant to symbolize each band member's individual talents, while the "black" emphasizes their cohesiveness.
chromatic BLaCK consider themselves as more than just musicians. They combine art, music, and drama within their live shows and performances to present a visionary experience to their audience and fans. Front man Mueller is a DIY artist who combines audio, photos, and video to create unique multi-media pieces. The resulting hybrid of both analog and digital traditions is both rock 'n' roll and a synthetic sound collage.
The "1, 2, 3, 8" single is available for download on iTunes as well as the OK!Good website.
OK!Good Records is an independent record label based in the New York City area. Founded in 2011 as an outlet for unconventional, evocative, and genre-defying music, OK!Good's mission is to pluck talented artists from all corners of the global landscape and present them to the American public. Visit okgoodrecords.com for more information.