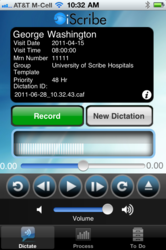 Scribe Mobile Lite is a better system and has been working out well for everyone.
Lake Forest, IL (PRWEB) August 23, 2012
Scribe Healthcare Technologies, Inc., introduces Scribe Mobile Lite as a convenient and easy-to-use dictation solution for recording sound files and promptly retrieving them from a secure FTP site. Healthcare providers can utilize existing mobile devices to inexpensively dictate without additional equipment expenditures, a PC or software to transfer files for transcription.
The dictation system is designed for use with Scribe's dictation application, Scribe Mobile, on an iPhone, iPad, or iPod Touch. Files are securely uploaded via WiFi or cellular connection and accessed via secure FTP. "Our previous system cost a fortune," said Jeanetta Hurtado, Office Manager for Center for Advanced Orthopedics. "Since one of our doctors already had an iPhone, it was convenient for him and is a much better solution than the program we were using."
The dictation application enables dictators to record regardless of connectivity. Voice files are securely transferred immediately or at a later time without tethering or docking the device. Dictations as long as 20 minutes each can be recorded and transferred individually or in batches to accommodate the user's preference. The application includes standard dictating functions such as rewind, playback, fast-forward, pause, and additional selections including priority, duration, and a unique dictation id for tracking. Voice files are stored on the device for one week by default but can be automatically deleted after one day or remain indefinitely.
Small practices or individual dictating physicians can be set-up and dictating within 24 hours. Sound files are compressed to expedite downloading, saving, or routing immediately after completion. The dictations are clearly identified in the account folder that is simple to navigate for improved transcription management and routing. Regardless of the physician or practice's transcription method, the dictation platform is universally accessible from any computer/device with Internet access. Additional dictators can be added quickly and seamlessly as needs expand without affecting transcription workflow. "There has definitely been savings on dictation and transcription," explained Jeanetta Hurtado. "Scribe Mobile Lite is a better system and has been working out well for everyone."
The dictation application, Scribe Mobile, can be downloaded from iTunes for free but requires the user to have a Scribe account for unlimited dictation. Mobile Lite may also be used with Scribe's toll-free phone number for a nominal per-minute fee.
About Scribe Healthcare Technologies, Inc.
Scribe Healthcare Technologies, Inc. is a privately-held, healthcare technology company based in the Chicago, IL area. The company has developed a proprietary "Cloud-based" platform that centers on medical documentation solutions to deliver physician narrated content to the electronic medical record. Scribe's platform includes complete solutions for dictation, transcription, voice recognition, document management, healthcare information exchange, and reporting with data analytics. Scribe offerings include both computer and mobile solutions. Scribe serves more than 30,000 users. Business partners and resellers include consulting firms, transcription companies, and business process outsourcers. Additional information is available at http://www.scribe.com.
XXX