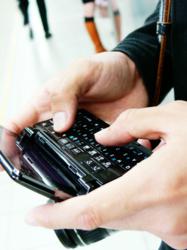 Medically prescribed apps aim to act as medical devices and may be paid for by the patient's insurance company
Newport Beach, California (PRWEB) August 23, 2012
Smart phone applications have already taken over many of the functions previously reserved for flashlights and alarm clocks, but the thought of doctors prescribing their patients mobile applications will take a bit of getting used to.
The DiabetesManager System is designed to collect information about a patient's blood sugar levels and medication regimen and then link the patient's devices wirelessly with glucose monitors. This information is then used to give advice to patients, analyze data, and send clinical recommendations to their doctors.
The United States is home to 25.8 million children and adults who are currently living with diabetes. The total costs associated with treating the disease are estimated to be $174 billion in 2007 alone. The potential to benefit the healthcare industry by decreasing the amount of other medical care needed by patients is a very real possibility.
The app is one of less than 10 that have gained clearance from the F.D.A.
Medically prescribed apps aim to act as medical devices and may be paid for by the patient's insurance company. Although there are still a lot of issues to be resolved before mass medical device applications will be distributed to your marketplace, the limitations may be in your best interest.
John Bisnar, product liability attorney, has been assisting injury victims since 1978. "A future in which accident victims will have the ability to access mobile applications with the potential to save lives is right around the corner, but letting the FDA do its job and regulate the types of devices available to the public is a must. Too often, medical products have been released to the public and are later found to inflict harm on those who use them."
We don't believe that the same will be the case with medically prescribed applications, but there is a level of comfort provided by the fact that these are not being taken lightly by regulatory agencies," says Mr. Bisnar.
As of now, there are only a handful of apps that physicians believe are worth prescribing and several others that make big promises with little software to back them up. Whether or not medically prescribed smart phone applications will be the wave of the future, today's patients are still going to have to settle for the plain old paper prescriptions.
About Bisnar | Chase Defective Product Attorneys
The Bisnar | Chase law firm has been assisting victims of defective products for decades while sustaining a 97.5% success rate. Their attorneys provide all defective product victims with a "No Win No Fee" guarantee as well as a free professional case evaluation.
For more information about their firm, call 1-800-561-4887 or visit their website at http://www.bestattorney.com.
Attribution:
diabetes.org/diabetes-basics/diabetes-statistics/
nytimes.com/2012/08/20/technology/coming-next-doctors-prescribing-apps-to-patients.html?pagewanted=all