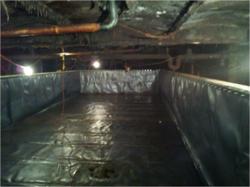 Creative ideas with innovative products like these, are how facility managers can make the most of their operations
Claremore, OK (PRWEB) August 28, 2012
A company that provides dyes for plastic, leather, and textiles industries was facing the task of lining a newly constructed effluent containment area in their basement. The building was built in 1929 which brought about many difficult problems.
Leaking floors above caused a constant "rain" in the project area and humidity levels remained high. The only way to remedy the situation to allow for a coating would be shut down the entire operations of the company for an extended period of time. Recognizing this wasn't possible, the company contacted Melvin Stein of Stein Associates for a solution. Stein immediately proposed the use of a pre-fabricated flexible PVC liner from Witt Lining Systems.
Among the problems was access to the basement itself. The area was only accessible through a three foot wide stairway off an outside alley dropping to a landing seven feet below or through a two foot x four foot street side window opening.
Witt Lining Systems constructed a liner approximately 45 ft. long x 15 ft. wide x 4 ft 6 in. deep in two pieces from an 1/8 in. Spectra Blue PVC formulation. The liner was folded into a long tube at Witt's factory and shipped to the job site. This allowed the liner to be unfolded and fed through the narrow window opening at the job site.. Once in the basement the liner was simply hung onto concrete anchors, welded together, and then fastened into place with compression strips around the perimeter. The complete installation was finished within 36 hours of the arrival of Stein Industries.
"This is how you make old facilities last longer. Creative ideas with innovative products like these, are how facility managers can make the most of their operations. In this case, extending the service life of a nearly 100 year old building, not to mention keeping industrial jobs from being lost due to new regulations" said Stein.
The old basement under the facility is now in compliance with new regulations and is operational as a containment area for the waste effluent of the building.
Witt Lining Systems is located in Claremore, OK. The company manufactures flexible PVC liners used for corrosion resistance in process tanks, storage tanks, vats, sumps, pits, and containment areas. PVC brands include Spectra Blue, Exceline and Koroseal PVC along with NSF-61 PVC and Teflon liners. For more information contact 1-800-323-3335 or visit http://www.wittliners.com
Stein Industries is a custom designer, fabricator, and installer of plastic tanks, custom equipment, and Witt Linings' factory installer in industrial and commercial applications. The company is located in Bryant, IN. For more information contact 1-260-997-6700 or visit http://www.steinindustries.com.