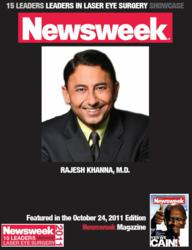 Dr. Khanna, and Kevin Sorbo attend Oscar De La Hoya's Celebrity golf tournament, where Kevin's new vision wins him the $10,000 hole in one.
Los Angeles, CA (PRWEB) August 22, 2012
Beverly Hills eye surgeon Dr. Rajesh Khanna is one of the leading pioneers of Lasik and Prelex vision correction surgery. He has been practicing for over 22 years and has achieved great results on a variety of patients. Khanna has virtually cured thousands of vision aliments and is the go to doctor for Hollywood's elite. Over the past decade Dr. Khanna has acquired quite a following due to his long list of celebrity, athlete, and movie star clientele. He is celebrated for his skill, precision, and dedication to his field.
Actor Kevin Sorbo is amongst one of the many celebrity clients that have received positive results from Dr. Khanna. After through examinations, measurements, and testing, Dr. Khanna determined that Kevin was suffering from pterygium. Pterygium, is a common eye disorder, and can be defined as an unnatural growth in the eye. The causes of pterygium vary from sun radiation, UV light, dust, and also genetic dispositions. If nothing is done, pterygium will continue to grow, covering the entire surface of the eye and eventually cause blindness. In order to treat Kevin's condition Dr. Khanna recommended Prelex, a new age procedure that involves replacing the eyes natural lens with an artificial presbyopic lens. Not only did Dr. Khanna cure Kevin's pterygium, but he also improved his vision dramatically. Now, Kevin raves about Dr. Khanna and the Prelex procedure, stating "he is so pleased with the results".
This past Monday August 20th Dr. Khanna and Kevin got a chance to meet up again at the Celebrity Golf Tournament hosted by Oscar De La Hoya. Many came out in support of Oscar's foundation, and enjoyed a fun day of golf. Celebrities in attendance included; Bruce Jenner, Sugar Ray Leonard, Ron White, and several others. Kevin's vision must be helping his golf game Dr. Khanna remarked, because Kevin ended up winning the hole in one and earning $10,000 dollars. Kudos to Kevin Sorbo, and his new and improved vision for achieving such great success at the celebrity golf tournament.