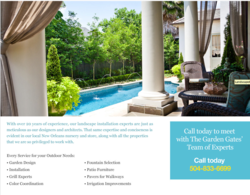 Metairie, LA (PRWEB) August 22, 2012
Offers Tips for Selecting a Landscaping Company
Choosing the Right Landscaping Company is Now Easier With This Helpful Guide
The Garden Gates has published a helpful guide to follow when interviewing and selecting a potential landscaping company or landscape architect. Many are unfamiliar with how this process works, and these are important aspects to consider when choosing the right company for the job.
The Garden Gates' landscape architects are inundated with the same questions over and over, and this guide was designed with customers in mind and their most popular questions. Regardless of the company selected, The Garden Gates' team of landscapers compiled this helpful article to help anyone with landscaping questions regarding the estimate and installation process.
Getting started with a potential landscaping company or landscape architect is fairly simple; call or stop by the company you wish to receive an estimate from, and they can schedule you for what should be a free estimate. If you are looking for design work only, you will have to pay the landscape architect to release their design.
Most landscaping companies require a deposit once the estimate and quote are approved and before the installation work will begin. This deposit is usually 50% and will allow the company to start purchasing plants and scheduling their workers and time for the job. Landscape architects don't usually do the work themselves; they do however supervise each project from start to finish and regularly check its progress.
If the job is a large landscape overhaul or renovation, it is wise to set up regular maintenance to take care of your new additions. Most landscaping companies also offer regularly scheduled maintenance to their customers to ensure that new plants and gardens are being properly cared for and watered.
The Garden Gates offers full service landscape design, installation, maintenance, seasonal color, irrigation, landscape lighting, paver design and installation, outdoor kitchens, seasonal spraying and container gardens. The Garden Gates' landscape architects are experienced and talented in a number of areas to give customers the most comprehensive outdoor landscaping services around.