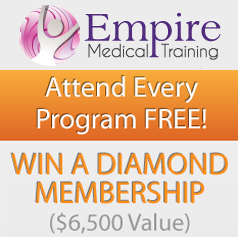 Since there is no limit to the amount of additional entries, a single contestant can amass a hundred entries in the same "pool" simply by getting 10 people to sign up.
Fort Lauderdale, FL (PRWEB) August 23, 2012
Empire Medical Training has, for the first time, launched a socially-driven contest that will reward one lucky winner with the education company's best available membership. This $6,500 membership lasts for two years and grants unlimited access to every single one of Empire Medical's 24 training programs as well as an exclusive one-on-one preceptorship. The programs cover such diverse fields as pain management training, botox training, hormone therapy training, liposuction training and many more. Members are also fully covered for the costs of training supplies and will receive a certification for each successfully completed training program.
Beyond having a highly valuable prize, the "Win a Diamond Membership" contest is designed to drive social sharing by allowing those who join the opportunity to greatly enhance their chances through the simple act of sharing. After entry, all participants in the contest are presented with a special page containing personalized links for sharing on Facebook, Twitter, LinkedIn, Email or any other platform. At this point all successful sharing, that which result in someone else joining the contest, is rewarded with additional entries. Through an automated tracking system, the original sharer will receive 10 extra entries for every person they get to join. Since there is no limit to the amount of additional entries, a single contestant can amass a hundred entries in the same "pool" simply by getting 10 people to sign up. According to Empire Medical Training President, Dr. Stephen Cosentino, "this contest represents EMT's commitment to using the best new technology and to fully integrating our operations with the dynamic online social realm."
The contest will last though through September 21st, 2012 at which point a winner will be randomly selected and announced. Empire Medical Training expects that the contest will generate significant interest in its course offerings and help with further expanding its social presence. The design and technology behind this innovative system is being provided by medical wedsite development and internet marketing company RX Medical Web, which will also be offering contest participants an exclusive custom discount.
About Empire Medical Training:
With almost 15 years of experience and more than 27 different medical and aesthetic training programs covering topics as varied as Advanced Practice Marketing, Botox Cosmetic and Dermal Filler Training, Pain Management Training or Surgical Cosmetic Training, Empire has trained over 30,000 physicians, dentists, nurses and other health care professionals since 1998. A nationally recognized CME Training Institution for Physicians, Dentists, Nurses and other Health Care Professionals, Empire has acquired a distinguished reputation in education and serves as a training facility for Allergan (Botox, Juvederm) and Medicis (Restylane), along with many of the largest Aesthetic Laser Manufacturers such as Chromogenex and Cutera. In addition, Empire is proud to have been chosen by the Florida Dental Association (FDA) to train their member Dentists in Botox Cosmetic and other Aesthetic Procedures.