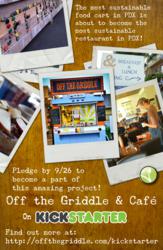 We don't need to be convinced that sustainability is crucial to the restaurant industry, we've seen it in action at our food cart. Kickstarter funds will enable Off The Griddle & Cafe to have an even greater impact on environment and community.
Portland, OR (PRWEB) August 29, 2012
Within two years of launching their solar-paneled veggie burger cart in SE Portland, customer popularity and green ambitions are already driving Off The Griddle forward. The cart has already been featured in several local media outlets, including The Oregonian, Portland Tribune, Willamette Week and Portland Mercury as well as local television news programs. In addition, Off The Griddle has been featured nationally in Vegetarian Times and Saveur magazines and was voted best all-around burger in Southeast Portland in a 2010 Eater PDX poll.
Moreover, in less than one year their second venture, the small A.n.D Cafe, has outgrown its bounds and will combine with Off The Griddle in the new restaurant space. A new, more spacious kitchen will also enable the couple to begin retailing Off The Griddle's famous gluten-free, vegan sauces made with solar power.
"Business consolidation has always been the plan," explains Harding. "The vision for both Off The Griddle and A.N.D Cafe are essentially the same – making delicious, healthful, locally sourced food that we would want to eat, while simultaneously promoting sustainable and ethical food movements. Plus with the new project will bring us together once again working under one solar powered green roof!"
Their Kickstarter video, a pictorial slide show of nostalgia, is a modern day entrepreneurs' love story. Already thousands of dollars have been raised, in large part due to social media networking via sites like Twitter and Facebook. The crowd-funding goal for the campaign, which ends September 26th, is $24,188 and comes with a host of rewards for backers, including Off The Griddle swag, organic gardening kits, a year long CSA-like program featuring homemade canned goods and sauces, and even special event catering. Meanwhile Ashley and Dan have been working with a real estate agent to find the perfect location close to their home and loyal customer base in Southeast Portland.
Funds raised on Kickstarter will not only help raise capital, more directly they will help install a host of green retrofits, from solar panels to green roofs to greywater recycling to reclaimed furniture and onward.
Ashley & Dan will not forget their deep roots in the Portland food cart scene. They eventually intend on upgrading to a newer, even more eco-friendly truck version of the cart. This incarnation will serve conventional purposes, i.e. festivals, events and catering, but will also focus on outreach and education by visiting schools and community centers to teach students about fun, healthy eating, renewable energy and overall sustainability. Theirs is a story in many ways unique to Portland, but Ashley and Dan's sustainable dream aims to set an example for the food service industry nationwide, not only catering to the growing vegan and healthy food movement but also to show the very real possibilities available to any small business.