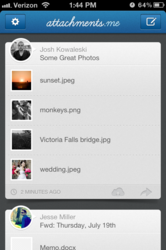 Our mission is to make sharing files in email actually work
San Francisco, CA (PRWEB) August 23, 2012
Attachments.me, a service that makes it easy to discover and share files in email, has now transferred over 1.5 million attachments into cloud storage solutions like Dropbox, Box and Google Drive.
Attachments.me also announced today the launch of an entirely redesigned iPhone application. The iPhone application allows users to find attachments from their email and send them into cloud storage. Users can also compose emails and attach files from Dropbox, Box or Google Drive.
"Our mission is to make sharing files in email a good experience for both the sender and receiver," says CEO and co-founder Jesse Miller, "and finding and sharing attachments while on your phone is a big part of that."
Companies from all over the world are already using Attachments.me. Their user base includes lawyers, investors, real estate agents and executive assistants.
About Attachments.me
Attachments.me develops software that improves email to make finding and sharing files easier. The product is available as an extension for Google Chrome or Firefox and as an iPhone application. Founded in Toronto, Canada by Benjamin Coe and Jesse Miller in 2011, the company relocated to San Francisco after earning seed funding from Foundry Group. For more information, visit http://attachments.me