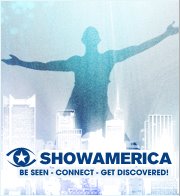 Show America is an amazing solution for me as artist to build and connect to my fan base.
New York City, NY (PRWEB) August 22, 2012
Show America, the most anticipated social media website since Pinterest, was conceptualized as a hybrid of a social aggregator website like Facebook with a professional networking site like LinkedIn. "I was looking around at all of the social media sites on the internet, and realized that there had not yet been a site that caters specifically to artists, their work and their fans," said Craig Escobar, CEO of Show America. By combining the features of both of these kind of sites, ShowAmerica has been able to create a place where artists from many different industries are able to reach their fans, showcase their media, and promote themselves all from one profile page.
Building upon the functional capabilities of Linkedin and Facebook, ShowAmerica.com will allow users to combine their traditional resume, their artist portfolio and their social profiles to create a "ProFolio." This ProFolio can be converted to an artist's website, online portfolio or downloaded as an Electronic Press Kit (EPK) with only a few simple clicks. ProFolios allow the user to seamlessly link and manage different Social Media profiles, making it easy to build a large fan base very quickly and communicate more efficiently and effectively with their fans.
The ProFolio feature is just the beginning of all the features ShowAmerica.com gives to its members. The site also allows users to create and market their own video blog. Fans and connections of Show America's artists and performers will be able to stream their media items on one of the fastest content delivery networks in the world. As members of the site, users can create groups, bands, teams and even group sessions for project collaborations while easily selling their artwork, event tickets and much more.
In addition, artists and performers can enter into competitions for the chance to win valuable prizes like record deals, contracts, sponsorships, lessons, scholarships, cash and much more. Participating in and winning competitions will help to raise their status and give them recognition. The comments they receive on these competition entries give participants valuable feedback that will help them improve their skills for future events and performances.
"Show America's competitions give participants a platform to hone their skills and also help other people hone theirs while allowing fans to get involved and feel like they have a personal stake in the success of the favorite artists," said Escobar.
By combining the competitive crowd sourcing concept with networking, Show America offers a unique and effective application designed specifically for talented and creative people to be able to promote themselves to their fans and amplify their fan-base.
Like Show America on Facebook and follow them on Twitter, or visit ShowAmerica.com in order to stay up to date with all the news of this innovative social media website!