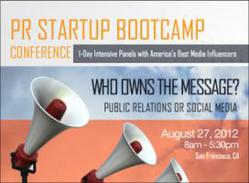 (PRWEB) August 22, 2012
GetPublicized is introducing the beta of its news collaboration platform exclusively at the 3rd Annual PR Summit in San Francisco, August 27th. PR Summit assembles top media influencers for one day of intense panel discussions, keynotes, break-out-sessions and networking. GetPublicized aims to make media outreach more effective - and more enjoyable - for journalists and PR pros.
Journalists report that 90% of the pitches they receive are not relevant to their audience. At the PR Summit " The PR Tool Measuring if You're Pitching like a Tool" workshop the GetPublicized team will discuss:

How we can improve the relevance of stories pitched in media outreach
Why journalist feedback is important – the value of media outreach is more than just coverage
What is the right way to apply data driven decision making to media outreach
How web 3.0 communication tools will help build relationships with media, companies and PR
Attendees should register early to ensure seating. To purchase a ticket for the PR Summit conference, preview biographies of participating keynote speakers and panelists & view the schedule visit http://www.prsummit.org.
About GetPublicized
GetPublicized is a news collaboration platform that connects PR professionals, companies, and journalists. We're changing the way journalists find the news. Be the first invited to our private beta by signing up at http://www.getpublicized.com.
About PR Summit
The PR Summit assembles top media influencers for one day of intense panel discussions, keynotes, break-out sessions and networking. Join other media professionals, entrepreneurs, marketers and public relations practitioners driving the next generation of PR. (http://www.prsummit.org)