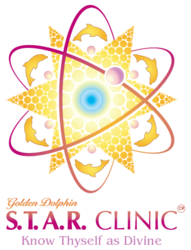 What you are doing is right on the frontier of preventative medicine.
Albuquerque, NM (PRWEB) August 22, 2012
The S.T.A.R. Clinic (an acronym for Surrender, Trust, Allow, Receive) presents new concepts and experiences to the field of healing by bringing together cutting-edge thinkers, scholars and trans-dimensional energy healers. Founded by award winning author Nina Brown to provide a service of healing and education to communities around the world, S.T.A.R. Clinic hosts conferences, webinars and intensives to inspire and support participants to awaken to human-divinity, wholeness.
The Fall Clinic, titled Ascension 2012: Ancient and New Codes Revealed, will be held October 19-21, 2012 at the sacred Santa Ana Pueblo, NM. An intensive, experiential workshop setting will provide participants with an opportunity to learn healing approaches that can be integrated into personal life and will explore such questions as, "What are ascension codes and how do they assist in fulfilling one's unique purpose?"
The inaugural S.T.A.R. Clinic was held in March 2012, and featured famed Quantum Physicist, Amit Goswami, Ph.D, who said, "What you are doing is right on the frontier of preventative medicine." The upcoming clinic features keynote speaker, "Not So Mystery School" founder, esoteric scholar and harmonic mathematician Randy Masters, Ph.D., quantum healing practitioner Vladimir Turek, galactic astrologer Norma Tarango and other experts in various healing fields. The clinic will include a panel discussion, "Codes revealed: No more secrets," moderated by local radio celebrity, Alan Hutner. A full list of presenters and a schedule of workshops and clinic events can be found at http://www.crystalsinger.com/index.php/events/oct-19-20-21-albquerque/ascension-2012-event-schedule/.
About the Golden Dolphin S.T.A.R. Clinic:
The Golden Dolphin S.T.A.R. Clinic was founded by Nina Brown to provide a service of healing and education to communities around the world. It hosts conferences, webinars and intensives, to help spread the central message of Brown's book,Return of Love to Planet Earth, Memoir of a Reluctant Visionary: inspiring and supporting participants to awaken to their human-divinity. For more information, visit: http://www.crystalsinger.com/index.php/golden-dolphins/star-clinic/