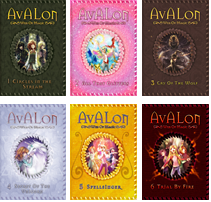 "The Avalon books are extraordinarily successful and a cultural phenomenon with tween girls. It is a great opportunity for us to publish the Avalon series as eBooks."
Los Angeles, California (PRWEB) August 23, 2012
Premier Digital Publishing announces the eBook publication of books 1-6 of the twelve book tween fantasy series Avalon: Web of Magic, available now for Amazon Kindle, Barnes & Noble Nook, Apple iBooks, Kobo Books, Google Play, and Sony Reader Store. The first six books of the series include: Circles in the Stream, All That Glitters, Cry of the Wolf, Secret of the Unicorn, Spellsinger, and Trial by Fire.
Avalon: Web of Magic, written by Rachel Roberts, brilliantly blends adventure, girl power, friendship and magic into a spellbinding fantasy series that has captivated and charmed readers. The Avalon series has been phenomenally successful, selling over 2,000,000 copies in its print run. Tweens across the country have been drawn to the adventurous story lines that involve magic, music, friendship, animals, and nature. Now, for the first time, worldwide audiences will be able to experience the Avalon adventure on their eReader in a whole new way.
Avalon: Web of Magic is a wondrous fantasy series weaving endangered magical animals and other ecological themes with contemporary teens, a 21st century twist on coming of age—with good guys, bad guys, and cute guys—and learning who you really are through the most improbable and amazing route imaginable.
Three teenage girls, the most unlikely of friends, share a secret: magic. By day, they are tour guides for the Ravenswood Wildlife Preserve, learning and spreading the message of conservation. But their secret mission is protecting magical animals that have arrived at the preserve from another world. The animals' only hope of survival is to fulfill an ancient prophecy and find three very different, but special girls: a healer, a warrior, and a blazing star, who can lead them on a quest to find the lost home of all magic, Avalon.
Avalon volumes 1- 6 will be released starting in August 2012 followed by Volumes 7-12 in October. The e-books will feature entirely new art packaging and design as well as high resolution illustrations that bring the stories to life.
The author, Rachel Roberts, an animal rights activist, brings to her readers a sense that they can make a difference in the world by caring for animals and each other. Roberts says, "The Avalon books are intended to entertain, but they also show that friendship, teamwork, responsibility, and appreciation of everyone's own uniqueness is important. I find that the fans of Avalon are inspired by the books' characters. In the letters I receive, I see that readers of the Avalon series are smart, creative, and wonderfully imaginative. They totally inspire me."
Thomas Ellsworth, CEO and Chairman of Premier Digital Publishing commented, "The Avalon books are extraordinarily successful and a cultural phenomenon with tween girls. It is a great opportunity for us to publish the Avalon series as eBooks."
"Avalon is first class storytelling that ignites the imagination and presents themes that absolutely resonate with today's tweens—fantasy, adventure, danger, music, and humor," said Robert Mandell, veteran writer/producer and the co-creator of Avalon, whose winning entertainment credits range from the Galaxy Rangers to the Ace Ventura: Pet Detective series. "The importance of music and magic in the lives of 'tweens cannot be overstated. They truly inspire and bond us, no matter how different we are, just like the real magic of fun, courage, and friendship. We are proud to have PDP publish this innovative series in such an exciting new format."
The Avalon website, http://www.avalonmagic.com, has been set up to increase awareness of wildlife preservation with links to wildlife information and sites. The site features maps of the Ravenswood Wildlife Preserve, information on the books and characters, and special sections where fans can read and learn about magical myths and legends, power stones, magical creatures, and rules of magic.
Circles in the Stream (Book 1)
Three very different girls are all drawn to a secret place deep in the woods. There they discover a portal to another world through which strange and wondrous animals have emerged, searching desperately for the magic that will keep them alive. The animals are peaceful and good, but what follows them through the portal is pure evil. Emily, Adriane, and Kara have been chosen by magical beings called Fairimentals to protect the magical animals, though they don't know why. To save them and their world, the three girls must begin a quest to find the lost home of legendary magic, Avalon...or to perish trying.
All That Glitters (Book 2)
Emily and Adriane have one thing that Kara doesn't - a magic gem. But when Kara finally finds a magic stone of her own - a diamond unicorn horn - it brings more trouble than anyone can handle. Pesky dragonflies start showing up everywhere and new Fairimentals warn of danger. Worst of all, a band of terrifying monsters stalk Kara. All these creatures come from another world. And all want something from her - but what? Finding out may take Kara, Emily, and Adriane a step closer to Avalon, the source of all magic. But it may also cost one of them her life.
Cry of the Wolf (Book 3)
Adriane and Stormbringer, the mistwolf, have a unique bond. But is it strong enough to save them when Storm is lured through the portal to Aldenmor? Adriane thinks it is, and follows Storm to the magical world. There, Adriane faces the challenge of her life as she confronts the entire mistwolf pack and tries to bring Storm home. The strange boy she meets may be able to help her, but she'll still needs Emily and Kara's magic if she is going to survive this battle.
Secret of the Unicorn (Book 4)
The problems in the magical world of Aldenmor are getting worse. Many new creatures are arriving in Ravenswood through the portal and they report that the Fairy Glen, home of the Fairimentals, has vanished. A frightened and terribly wounded unicorn is among the new refugees to Ravenswood. Can Emily communicate with her to offer help? The future of the magic web depends upon the dark secret the unicorn carries.
Spellsinger (Book 5)
The first benefit concert for the Ravenswood Wildlife Preserve is on! Everyone is depending on the event to ensure the survival of Ravenswood. It's got to be a success. And Kara's on the case. She's booked hottie pop idol Johnny Conrad. But Conrad may be hiding a dangerous secret that threatens the animals, Ravenswood, and the girls themselves. This time, the magic is in the music, and if Emily, Adriane, and Kara can't perform, their chance to find Avalon may be gone forever.
Trial By Fire (Book 6)
The road to Avalon - the mystical home of all magic - is about to be revealed. The path is on the fairy map, a sparkling globe of wondrous power. Kara holds the fairy map in her hands, and must use it for the good of all worlds and all animals. But evil stalks Kara. The Dark Sorceress is after the map, too. If she finds Avalon first, people and animals from all worlds are doomed. The time has come for Emily, Adriane and Kara to be the healer, the warrior and the blazing star they were meant to be. They must win this battle - even if it means sacrificing a beloved friend
The eBooks are available at:
http://bit.ly/NFf1zW
About the Author:
Rachel Roberts loves magic, music, adventure, and animals. She is an avid campaigner for animal rights and for the protection of wild places. Rachel's been reading since she could first hold a book and loves getting lost in a great story. She has been a writer and editor her entire professional life. She says most ideas for her stories and characters come on long hikes. She carries a small notepad for jotting down thoughts. Then at home she expands on the ideas with cat pals, Attila and Raider. Rachel also loves music, and plays the piano, flute, and is learning to play guitar. Avalon: Web of Magic is Rachel's first series of novels.
About Premier Digital Publishing:
Premier Digital Publishing is a leading independent digital publisher and innovator of eBooks, enhanced eBooks, print-on-demand books and interactive content. Led by a team of digital media pioneers, the company ranks among the top publishers of quality eBook entertainment to the industry's leading tablet and eReader manufacturers and eBook retailers. The company is based in Los Angeles with offices in Toronto and New York.
Web: http://www.premierdigitalpublishing.com
Like: http://www.facebook.com/premier.digital.publishing
Follow: http://www.twitter.com/PDigitalPub