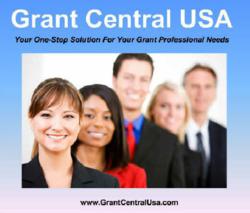 We want to give administrative assistants a chance to hear from other grant writers to see if this is a good fit for them.
Los Angeles, CA (PRWEB) August 22, 2012
On August 23, 2012, Grant Central USA will re-release a grant writing webinar designed just for administrative assistants. Grant writing webinars come in all shapes and sizes, but Grant Central USA has developed one especially for administrative assistants that can be accessed online and on-demand for free. Why administrative professionals you may ask? Well, a large number of grant writers stumbled into the field of grant writing by accident and many were former administrative assistants.
This industry is dominated by women (over 80%) and continues to be a growing profession. "Grant writing is more about communication skills and language. Psychologists say women's brain has more capacity for language function. I guess this might be one of the reasons why women perform better in communication related jobs," writes Aaliya Agha.
"We want to give administrative assistants a chance to hear from other grant writers to see if this is a good fit for them," says Rodney Walker of Grant Central USA. He adds, "This field isn't for everyone, but those who discover it and enjoy research and writing really love it."
Myralee Machol writes, "Granted (no pun intended) it's tedious but as a grant administrator for a small municipality for many years, I found it most rewarding. An analogy for me is like baking a cake — if you follow the instructions – you achieve success. Building relationships with the funders is crucial. I now work in private sector helping municipalities and not for profits seek funding."
The on-demand webinar features veteran grant writer, Lori Call, who shares her story of transitioning into fundraising and grant writing. "I began to see all these threads throughout my life that made me a perfect fit for grant seeking," says Call.
The median expected salary for a typical grant writer in the United States is $55,660. This webinar will help you learn more about the field of grant writing and will provide you with solid information to discover if this is a career path that is a good fit for you. Hear from a former office manager who stumbled upon the field of grant writing and discovered a new passion. Grant Central USA offers a number of online grant writing courses to help those interested in grant writing learn this valuable skill.
About Company
Grant Central USA is a leading provider in the grant writing training industry offering both in-person and online grant writing classes. The company is based in Pasadena, CA and serves individuals and organizations nationwide to do a better job in writing grants that get funded. For more information visit GrantWritingOnlineCourse.com or call 1.888.293.0284.