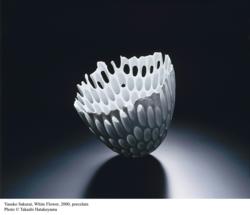 Visitors are in for a gallery experience that will bring them back for a second and even third visit.
Maui, Hawaii (PRWEB) August 23, 2012
A remarkable exhibit by an equally remarkable group of artists soars to Maui this fall – the last chance to view this stunning and socially progressive collection of contemporary ceramics before it returns to Japan.
Soaring Voices: Recent Ceramics by Women from Japan will wrap up its successful North American tour at the Maui Arts & Cultural Center's (MACC) Schaefer International Gallery from October 20, 2012, through January 6, 2013. Showcasing 86 works of Japanese clay on loan from museums and private collections, the curated exhibit opens a fascinating window into an ancient craft that, for millennia, had shrouded its women artists in obscurity and isolation.
That Soaring Voices even exists is a symbol of seismic social change. Though women have long been active participants in Japan's renowned ceramic arts, for centuries they were relegated to support roles. Leadership and recognition were reserved exclusively for men. A discernible shift began in the 1950s, when pioneering women ceramists began circumventing centuries of traditional social boundaries. Kyo Tsuji, for example, changed her name from the feminine "Kyoko" to the male "Kyo" in order to display and sell her work.
The creations of 25 internationally recognized women artists are included in the traveling exhibit, grouped into four generations, including those of the pioneering ceramists who helped pave the way for their younger colleagues. Many of the works are inspired by the natural world – plants, shells, mountains, rivers, and the play of light and shadow – while others draw from other Japanese arts, such as the dance movements of Noh Theater or kimono patterns of the Edo period.
"Every artist's work in this exhibition offers a personal level of pushing boundaries in form and visual movement. There is almost an internal energy that passes to the viewer," said Neida Bangerter, gallery director at the MACC. "Many of the works are technically innovative in scale and balance while others are quiet with intricate detail in design or glazing. Visitors are in for a gallery experience that will bring them back for a second and even third visit. You can't see it just once."
Admission to Soaring Voices: Recent Ceramics by Women from Japan is free. Schaefer International Gallery is open Wednesday through Sunday from 11 a.m. to 5 p.m. and before shows in MACC's Castle Theater. Ample parking is available for free.
Maui Arts & Cultural Center is also offering a series of opening events from October 19 through 23, 2012, which include:

Pre-Opening Gala featuring a champagne reception, exhibition viewing with its curators and artists, dinner and live entertainment on Friday, October 19
Artists Opening Reception with pupus (hors d'oeuvres) and no-host bar on Saturday, October 20
Symposium featuring Soaring Voices curators and Japanese art experts on Sunday, October 21
Artists Lectures and Demonstrations on Monday, October 22 and Tuesday, October 23
Admission to all five days of the opening events is $350. Admission to individual events may be purchased separately. Contact the Maui Arts & Cultural Center for more information at (808)242-ARTS (2787) or http://www.MauiArts.org. Tickets may be purchased through the MACC Box Office, (808)242-SHOW (7469) or online at MauiArts.org.
About Maui Arts & Cultural Center
Maui Arts & Cultural Center (MACC) opened in 1994, the culmination of a long standing dream of Maui's residents to build a world-class gathering place for the arts. The Center is the most comprehensive, multi-disciplinary arts facility in Hawai'i. Its diverse facilities include the state-of-the-art 1200-seat Castle Theater; multi-purpose 300-seat McCoy Studio Theater; the 4,100-square foot museum-quality Schaefer International Gallery; a 5,000-seat capacity outdoor Alexander & Baldwin Amphitheater; the Pā, dedicated to hula, as well as a mix of dance studio, classroom and meeting room space. The Yokouchi Pavilion Complex features a concert stage under a glass-capped roof, bistro dining in a covered courtyard, built-in beverage bars, catering preparation kitchen and second floor gathering hall. MACC is a private 501(c)3 nonprofit corporation governed by a volunteer board of directors and supported by the generosity of people who love Maui. For more information, call 808-242-ARTS (2787) or visit MauiArts.org.