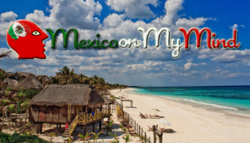 Trying to learn a new language or even just being exposed to new cultures can add quality years to our lives. The other benefits include a lower cost of living, much lower cost of health care and significant savings on health insurance…
Tulum, Mexico (PRWEB) August 21, 2012
"Changes in Latitude" is the latest feature category for the growing Mexico expat resource website Mexico on My Mind (MoMM). In keeping in line with the website core mission: Helping people move and live well in Mexico, the new "Changes in Latitude" featured category is aimed at providing practical tips for health, fitness and budget in Mexico. The new section will also highlight solutions related to health care and international insurance options for those traveling, living long term or seasonally in Mexico.
Part of the inspiration for the name of the new section for Mexico on My Mind owes credit to Jimmy Buffet as the author of the song with a similar name…"Changes in Latitude, Changes in Attitude." The name and familiar verse should come to mind for those familiar with Margaritaville and Parrot Head subculture.
According to Mexico on My Mind, the attitude is a big part of it too and is meant to show the inherent benefits of a life closer to the equator and what's possible with a change in latitude. Catherine Burdine, editor of the new featured section on the website had this to say, "There's a lot more than just good weather in Mexico. We have found the variety of fresh, organic and local foods to be very impressive and readily available year round. The warmer weather also draws us outside more often and we have been a lot more active since moving here almost 5 years ago." Burdine continued, "I have always been an active person-I love running and I have always tried to eat well and make healthy choices with food, it's a lot easier to avoid food traps in Mexico. The move south and the change in latitude have definitely had a positive effect on how we eat and how much we exercise. Based on our personal experiences, I have found it much easier to live a more relaxed healthy lifestyle in Mexico and I want to share those positive experiences."
The new Changes in Latitude category will not only feature local diet and exercise tips but will also focus on health care and health insurance options in Mexico as well as some of the cultural "brain benefits" of living south of the border. "There are a lot of Baby Boomers retiring these days. There's a lot to be said about staying engaged and keeping your mind active as we age, it's a big factor in our overall health and life satisfaction. Trying to learn a new language or even just being exposed to new cultures can add quality years to our lives. The other benefits include a lower cost of living, much lower cost of health care and significant savings on health insurance…people are always very surprised to find out how much they can actually save," stated Burdine who is also a licensed international health insurance agent.
Relocation to Mexico can be rewarding! The rewards are earned after an impressive "To Do" list before you move. Providing relocation resources for expats is the mission of the MoMM website. The new Changes in Latitude category highlights life after arriving in Mexico and offers ways to insure a healthier lifestyle for those thinking about the move.
You can check out the new Changes in Latitude lifestyles category on Mexico on My mind linked here: http://www.mexicoonmymind.com/lifestyles/