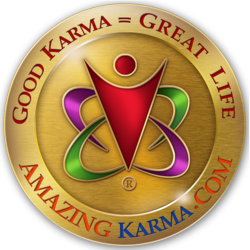 "Soon to Become the Most Powerful Social Network in the Universe!"
Los Angeles, CA (PRWEB) August 22, 2012
AmazingKarma.com announces the first release in a series of hilarious and outrageous YouTube videos called CONGRESS: THE DANCE MIX also known as "We Need a New Congress".
The animated musical production skewers the 112th "Do Nothing" Congress by showcasing hypocritical and obstructionist Republicans while promoting women candidates by supporting WinwithWomen2012.com. The video is also the prelaunch of AmazingKarma.com's new social network website and supports the site's mission to change the world, one Karma Card at a time.
AmazingKarma.com acknowledges and encourages personal acts of kindness, honesty, or courtesy while exposing acts of unkindness, dishonesty, or discourtesy through the use of Karma "Credit" and "Debit" Cards.
When Karma Cards are registered in the member's free account at AmazingKarma.com, Karma Points are generated, tracked, and mapped around the world building a Karmic social network as each Karma Card is passed from person to person. Karma Points can then be redeemed toward donations to registered charities or for personal consumer goods and services at over 18,000 world-wide vendors.
Members can earn Super Karma Points by uploading videos of any politician or corporate executive being given a Green Karma Credit Card for performing a good deed, or a Red Karma Debit Card for performing bad deed.
Mega Karma Points are earned by uploading videos of any current or former member of the U.S. Congress, or their staff, receiving Karma Cards for worthy or unworthy acts.
"Everyone understands the concept of good and bad Karma," says founder Darlene Tipton. Case in point: on her way to lunch, Darlene gave a man who was taking up two parking spaces a Red Debit Karma Card. The man aimed a few colorful phrases at Darlene and drove off, throwing the Karma Card out his window. Darlene noticed from the restaurant window that the man pulled around and parked in one space, picked up the Karma Card and then drove off. Says Darlene, "You can't cheat, compromise, or negotiate with Karma!" She puts it very simply, "Good Karma equals a Great Life."
Darlene is confident that the basic message and fun of generating, tracking, and mapping redeemable Karma Points will resonate with millions and allow the website to soon become "the most powerful social network in the Universe!"
Watch "Karma Kasey Explains AmazingKarma.com" http://youtu.be/LQuAnw2_8K0
Twitter: http://twitter.com/karmakasey
FaceBook: http://facebook.com/karmakasey
Ring-Tones for "We Need a New Congress" are available for download at ITunes with the funds supporting http://WinWithWomen2012.com.
Amazing Karma Songs are available at Google Play: https://play.google.com/store/search?q=AmazingKarma&c=music&docType=4
About Darlene Tipton:
Darlene Tipton is a 40-year veteran Hollywood executive, an award-winning independent film producer, founder of AmazingKarma.com, and owner of the #1 Missouri Dog Poop Removal service named Doody Calls – St. Louis.
Mrs. Tipton received her BA in film and television from UCLA, her Master's Degree in Business Administration from Pepperdine University and her PhD in communications. Mrs. Tipton is a five-time Jeopardy champion, an ultralight aircraft pilot, mother of six and grandmother of two.
Darlene is also a very active member of The Red Hat Society as the Queen of the Lumpy Birds of the Little Rock Marching Society.