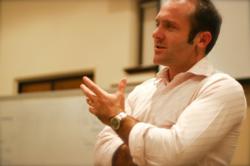 Young women facing limited options in finding the ideal future partner.
(PRWEB) August 22, 2012
Education expert Jonathan Doyle has argued in a new book, How To Get The Man Of Your Dreams that young women are facing serious challenges in finding their ideal future partner. Doyle, who holds a Masters degree in Education in currently completing a second Masters degree in Marriage and Family Studies has delivered live seminars on the topic to over a quarter of a million people.
The book explores a range of key issues related to significant changes in relationship dynamics between genders over the last fifty years. Doyle's premise is that key aspects of the sexual revolution along with seismic economic and social changes mean that an increasing proportion of young women are finding it very difficult to find marriageable men.
He states, "The book explores many key factors and I accept that much of what I am saying will prove contentious. However, I think many of the young women I have spoken to over the years have articulated that it seems increasingly hard to find young men capable of genuine commitment and who possess the kind of emotional and psychological maturity required to negotiate a successful long term relationship."
Doyle devotes considerable time in the book to outlining not only the key issues impacting upon young women but also aims to highlight the key forces that have impacted young men. He states:
"Over they years I have spent a great deal of time time helping young women gain a greater insight into the issues shaping the character and behaviours of the young men they are dating. If you look at the huge prevalence of absent fathers which in turn leads to a lack of initiation and validation for younger men and then you embed that in a highly sexualised media and Internet culture which sees a vast number of young men dealing with issues such as pornography addiction, you can understand why many young women are on the fast-track for disappointment."
The book explores a range of key strategies designed to help young women both affirm and validate their own sense of self-worth as a crucial prerequisite to any future dating relationship. Doyle argues, "So many young women carry deep emotional and psychological wounds from an early age that they are often possessed of a fractured sense of self-worth. This creates a barely conscious sense that they are not worth much and then they go on to see that reflected in toxic relationships with young men who completely fail to respect their value and dignity as young women. We need to do much to help young men become more respectful but we also need to help young women address their own inner pain so that they don't allow that to form their template for how they are treated going forward."
The website for How To Get The Man Of Your Dreams also contains a range of videos where Doyle explores the key concepts in more detail.