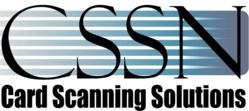 Los Angeles, CA (PRWEB) August 28, 2012
Card Scanning Solutions, CSSN Inc., a leading developer of image processing solutions and Optical Character Recognition (OCR) technology, will be exhibiting at Greenway's PrimeLEADER 2012 User Conference in Orlando, Florida. This event will be held at the Gaylord Palms Resort & Convention Center from the 6th to the 9th of September. Exhibiting at Booth 8, CSSN will demonstrate their SnapShell® OCR ID reader and their ScanShell® 800DX duplex scanner which have been integrated into the software and service solutions provided by Greenway Medical Technologies, Inc. to streamline and enhance visitor management and to optimize healthcare management. These state-of-the-art solutions offer a time- and cost effective means of automated information collection as well as enhanced electronic health records and practice management solutions for health care providers. The result is greater efficiency, limited human error, increased security and reduced costs.
Greenway is committed to designing and delivering smart solutions for the healthcare industry. They offer PrimeSUITE® which is a certified and fully integrated electronic health record (EHR/EMR), practice management (PM) and interoperability solution which helps healthcare providers improve care coordination, quality and satisfaction while functioning at the highest level of efficiency. Thousands of providers across 30 specialties and sub-specialties use on-premise or cloud-based Greenway solutions in physician practices, clinics and health systems. In this way, these healthcare providers have access to comprehensive patient information and optimized clinical, financial and administrative processes and outcomes anytime and anywhere. Greenway has integrated PrimeSUITE® with CSSN's SnapShell® ID scanner and the ScanShell® 800DX duplex medical card scanner. This integration of cutting edge solutions by both Greenway and CSSN enables users to have access to industry-leading healthcare solutions which enhance patient service and satisfaction, facilitate adherence to compliance guidelines, increase profitability and provide users with a far superior medical practice management solution.
CSSN will also be exhibiting in the Greenway Marketplace section of the Greenway PrimeLEADER 2012 User Conference. The Greenway Marketplace allows technology partners to build upon PrimeSUITE®'s application programming interface (API) in order to accelerate the delivery of innovations to Greenway's more than 41,000 healthcare provider customers in a mutually low cost and customized delivery structure. The Marketplace enhances and generates patient engagement within a practice and also allows the provider empowerment of their Greenway solutions. As a certified partner of Greenway, CSSN's solutions will provide users with enhanced efficiency, profitability and patient satisfaction resulting in the most advanced healthcare possible.
CSSN's SnapShell® OCR ID reader is a revolutionary ID camera scanner which captures driver's license information quickly and accurately. This data can then be identified, authenticated and stored into PrimeSUITE® which enables the ability to create and maintain accurate electronic records of every incoming visitor into a facility. Once the vital information is scanned and collected, it is automatically extracted and auto-populates appropriate the text fields in PrimeSUITE®. Users can then customize how this data is used and shared in a manner specific to a practice or specialty. In this way, data use is maximized and enables easy-use. PrimeSUITE® users can easily capture the images of the cards and display them in the patient's record for future reference. Additionally, clinical content can be shared through the Clinical Content Library and between peers. More than 3,200 clinical templates are available in Greenway's specialty-based content library. The SnapShell® ID reader offers comprehensive coverage of government-issued identification and it can also read the OCR of driver's licenses and ID cards of all 50 US states and over 45 countries around the world. With its easy plug and play installation, ID reading with CSSN's SnapShell® ID scanner, is as simple as snapping a picture. Once a card is placed on the scanner, the auto-detect feature triggers scanning and it is able to extract both data and images from the ID card. This ability gives the flexibility to capture a full image of the ID card, or to only capture the face and signature image.
The ScanShell 800DX A6 duplex scanner is a high-speed OCR unit which offers users the ability to simultaneously capture both sides of a scanned document such as, ID cards, insurance cards, medical cards and driver licenses. The scanner is equipped with high speed USB 2.0 standard interface and therefore requires no external power supply. The ScanShell® 800DX scanner is lightweight and fully portable and it is TWAIN and WIA compatible making it a convenient solution for both desktop and mobile use. This easy-to-use scanner from CSSN now works seamlessly with Greenway's PrimeSUITE® software and users have access to an efficient scanning solution. Both hardware options from CSSN are compact and space-saving and they both deliver quick digital capture with zero warm-up time.
With CSSN's comprehensive OCR Software Developers Kit (SDK), the advanced reading technology of the SnapShell® ID reader and the ScanShell® 800DX duplex scanner have been easily incorporated directly into Greenway's software application giving one full access to the automated data-collection process. Greenway's PrimeLEADER 2012 User Conference in Orlando, Florida will give attendees the opportunity to learn more about the exciting and cutting edge solutions from CSSN and Greenway so step into Booth 8 or drop by Greenway Marketplace section of the conference and experience revolutionary solutions which are leading the way in the healthcare industry today.
About the Greenway PrimeLEADER 2012 User Conference
The theme for the Greenway PrimeLEADER 2012 User Conference is 'Innovation' and there will be many exciting announcements during the event. This conference will introduce a wide variety of state of the art software functionality and state-of-the-art services and solutions which are available in the healthcare industry today. Hundreds of Greenway's partners from around the industry will be available to share their products, services and insights. Greenway will also be using this platform to introduce the latest enhancements of PrimeSUITE® as well as introduce the latest industry and legislative updates.
Additional information on the image processing solutions offered by CSSN, Inc. can be found at http://www.card-reader.com.
Card Scanning Solutions (CSSN Inc.) is a leading developer of card reading and image processing technologies. They are renowned for developing an OCR engine that can read the driver licenses and ID's from all 50 states and over 80 countries. Their high-level DSP (digital signal processing) algorithms are able to filter and clean tarnished images received from an ID scanner, which differentiates their technology from other OCR providers. CSSN Inc. offers valuable solutions that significantly increase productivity, save time and money and result in greater efficiency in a wide variety of industries including Medical, Financial, Hospitality, Security and more.
For more information contact:
Celeste Monzon, Marketing Manager
213/867- 2625