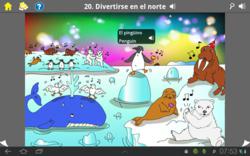 Boston, MA (PRWEB) August 23, 2012
Noyo Spanish is a Spanish language learning iPad app that links Spanish vocabulary words to entertaining images and high-quality audio to provide a strong educational foundation for language learning. With the school year starting, Noyo is offering promo codes to try the app for teachers in school systems with iPads.
A talented team of graphic design artists brings vocabulary to life with comical characters and amusing scenarios, and each word or phrase is voiced by a native Spanish speaker. Noyo Spanish offers eight targeted vocabulary units, each with its own set of assessment questions for maximally effective learning.
Noyo Spanish, a revolutionary departure from typical flashcards and older vocabulary-building systems, takes the user on a virtual journey through a colorful landscape of exciting scenes right on the iPad display. The curriculum introduces words and phrases in context to help beginning learners strengthen their Spanish vocabulary.
"Appealing graphics, useful audio, a helpful tool for vocabulary building, Noyo is truly amazing for the entire Spanish classroom. As a language teacher, finding appropriate graphics is a huge challenge. Noyo has combined graphics, audio, and written vocabulary all in one spot!" says Caryn Grozalsky, a veteran middle school Spanish teacher in Weston, MA.
"We are very excited to see school districts adopting Noyo Language apps for their district iPad programs," says Chief Learning Officer, Mike Sullivan. "Teachers can dedicate less classroom time to introducing vocabulary. Noyo Spanish can be used by students at home and at their own pace, to master assignments freeing up classroom time for more project-based learning."
Features of the Noyo Spanish app for Apple iPad include:

Over 1800 vocabulary words, each reinforced by supporting audio, visual representation, and written translation
194 custom-illustrated scenes, packed with friendly characters and amusing scenarios
Audio by a professional voice artist who is a native Spanish speaker
8 targeted units (Food, Travel, City, House & Home, Seasons, Animals, Schools, Sports)
Built-in assessment questions at the end of each unit
Intuitive, user-friendly navigation system
Content designed for teacher classroom use, parents to use with young children, and self-study for teens/adults
Available in Spanish, with other languages including English-as-a-Second Language, French, Hebrew and Portuguese coming soon
Noyo was created through the combined vision of beloved Spanish schoolteacher Mike Sullivan and innovative mobile software entrepreneur Ted Chan, who specializes in mobile user interface design.
Noyo Spanish is available on iTunes at an introductory price of $7.99. Android and Kindle versions are also now available for download on Google Play and Amazon Appstore.
Noyo is headquartered in Boston, MA. It is dedicated to providing engaging, cost effective, high-value supplemental learning tools for tablets to language learners of all ages. More information can be found at http://www.noyo.com.