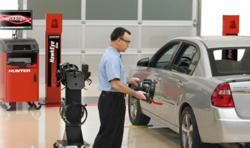 Charlotte, NC (PRWEB) August 27, 2012
Rocky Camillo, Service Manager, at Scott McCorkle's Liberty Buick GMC Trucks is thrilled to announce the addition of the Quick Check Alignment System to Liberty's service department. "Within 58 seconds you have a complete four-wheel alignment analysis completed and a print out describing any issues that need to be corrected."
The Quick Check Alignment System is a small, wheel-mounted device that captures toe and camber measurements. To use the system a service staff member simply positions a vehicle in front of the machine, rolls the vehicle forward to capture measurements, scans the VIN with a bar code reader to gather specifications that are built into the system and prints results for the customer.
"The Quick Check System is a great investment and well worth it," says Camillo. The system cost the dealership $25,000, but it should show a return on investment in six months to a year. And Liberty offers the Quick Check free of charge to all their service customers. With as many as 60 percent of vehicles on the road out of alignment this is a great value-added service that Liberty offers customers.
The Quick Check System is a product of Hunter Engineering, a company known for expertise in automotive undercar service technology. Hunter has been producing automotive testing equipment since the 1930s. Lee Hunter Jr., a 23-year-old student and inventor, invented a car charger that was faster than any previous charger. The rest, as they say, is history.
In 1955 the Lite-A-Line Wheel Alignment System was created by Hunter. Using wheel mounted instruments, the machine used projected light beams to achieve precise wheel alignment. According to Hunter, this was the industry's first simplified light beam wheel alignment system.
As the years progressed, so did the Hunter alignment systems. Computerized technology was introduced in their wheel alignment systems in the mid 1960s. By the 1970s, Hunter introduced computerized, electronic, static wheel alignment analysis, using electronic sensors. In the 1980s, graphic displays and the use of bar graphs made adjustments much easier for the technician. By 1996 the Pentium Processor and Windows operating system allowed Hunter to take alignment checks to a new level of accuracy.
According to Hunter Engineering Production Manager, Kaleb Silver, they have very satisfied customers and the Quick Check Alignment System, introduced in April, has been very well received by dealerships and customers.
"Green on the print out means no problem - Good to go! Red means out of alignment and spells out the area needing adjustment," says Camillo at Liberty. Camillo and Hunter's Silver stress the importance of driving a properly aligned vehicle. It is important for tire wear, fuel economy and of course, safety.
Need an alignment? Call the experts at Liberty today for all your automotive service needs. Liberty's staff are thorough and the new Quick Check Alignment system helps insure the best in quality and service. Call Liberty at 866-442-8103 or visit their website today at http://www.clickliberty.com.