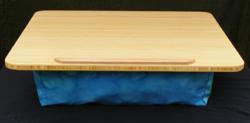 Care of a lap desk is easy and will maintain its life and luster.
Eugene, Oregon (PRWEB) August 24, 2012
Lap of Luxury Lap Desks are made with high attention to quality. The laminated cherry, maple, walnut and bamboo desktops run from three to twelve layers. Bamboo desks are the most solid with three layers of bamboo running at right angles to each other. All desks are ½".
The varied tops of Lap of Luxury Lap Desks are one of its most popular features. The way a lap desk looks when propped against a wall or when lying on a couch is important to homeowners. While bamboo is a frequent choice for those wishing a sustainable product, the maple, walnut and cherry desks give lap desk users a chance to match the other woods in their homes. High quality fabrics make them desirable as furniture as well as extremely useful surfaces for work and play. Deep cushions provide excellent postural support.
According to Kathleen Hogan, owner of Lap of Luxury Lap Desks, wooden and bamboo desks need care like any other piece of furniture. "We believe that our customers will able to care for the desks themselves and that they can keep them looking good with some simple maintenance." Here are some tips for care:
1.Edges: The wooden desks may fray a bit with use and changes in the weather, especially at the corners. Use a piece of fine sandpaper and gentle sanding to improve the look and feel of the desk. Do not let the sandpaper slip over the edge of the board as it will scratch the top and bottom surfaces.
2.Tops: The tops and bottoms of the boards are sealed with lacquer and never need sanding. Cleaning of the surface with soap and water is all that is needed to maintain the working surface.
3. Pencil Ledge and Strips of Wood holding cushion to the board: These can be oiled to darken the wood. A general-purpose wood stain or preservative is recommended, though wood polish would work too. Wipe any excess oil off of the top and bottom.
4. Cushion: The fabric can be spot cleaned with gentle detergent, except for the tapestry fabrics, which need a gentle fabric cleaner like Woolite or to remove stains, a dry cleaning solution. The inside foam will not be harmed if exposed to water; just let it dry out thoroughly before use.
5. Thickness: The cushion can be fluffed back up if it flattens with use. Hold the board horizontal to the floor and push and poke the pillow until the foam unlocks and regains its shape.
Since 2005, Lap of Luxury Lap Desks has made products that allow users to work away from a table or desk with support and ease. Lap desks are used as writing tables, food trays, lap top computer accessories, and as portable work platforms for holding books and hobbies. Adding these care tips will keep these luxurious desks looking and feeling great.