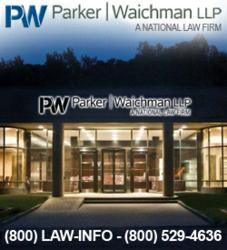 Given the severity of the injuries sustained by Parker Waichman's clients, it is expected that future cases can be resolved at a significantly greater per-case average value than what was achieved in the first settlements.
New York, NY (PRWEB) August 22, 2012
Parker Waichman LLP, a national law firm dedicated to protecting the rights of victims injured by defective medical devices, is informing the public today that Johnson & Johnson has reached the first settlement in lawsuits involving its DePuy ASR hip implant devices. According to a report in Bloomberg BusinessWeek, Johnson & Johnson has agreed to pay $600,000 to settle three cases ($200,000 per-case average) alleging that the recalled metal-on-metal hip replacement caused damage. The claims, which were filed in Nevada's 8th Judicial District Court, were set to go trial on December 3rd. (Case No. A-11-636272)
Johnson & Johnson officials were able to negotiate settlements "at the low end of what the company should have expected" to pay, Eric Gordon, a business professor at the University of Michigan who follows the pharmaceutical industry, told Bloomberg in a telephone interview. Professor Gordon contends it may cost the drugmaker as much as $2 billion to resolve all litigation over DePuy's ASR hip implants, Bloomberg reported.
"They're looking at a giant number before it's done because there are a giant number of cases," Gordon said.
While every case is different, and the circumstances and injuries involved in the settled cases is unknown, given the severity of the injuries sustained by Parker Waichman's clients, it is expected that future cases can be resolved at a significantly greater per-case average value than what was achieved in the first settlements.
Johnson & Johnson recalled the DePuy ASR hip implant in August 2010 after the device began to fail in large numbers. The recall affected 93,000 hip implants around the world, with 37,000 units in the United States. At the time, data from the National Joint Registry of England and Wales indicated a failure rate of 13 percent (1 in every 8 patients) within the first five years. The British Orthopaedic Association has released more recent data suggesting that the rate of revision is even worse than initially thought-as high as 49 percent in six years.
[britishhipsociety.com/pdfs/BHS_MOM_THR.pdf]
There has been a substantial amount of research linking the recalled hip implant to serious complications. The major concern with the device relates to metal ions that are released through wear and tear of the metal-on-metal hip. Reportedly, these metal particles get absorbed into the bloodstream and seep into nearby tissues. The long-term side effects from elevated metal ion levels is still uncertain, but a recent study published in Chemical Communications journal suggests that these nanoparticles may be genotoxic, and destroy a cell's genetic material. In February, a study in the British Medical Journal warned that metal hip patients everywhere may be exposed to dangerously high levels of metal ions.
Most recently, a study published in the Orthopedics journal analyzed the early failure of metal-on-metal hip implants. Overall, researchers found that 92.5 percent of the revision surgeries occurred within the first three years of implantation. Artificial hips are expected to last 10 to 15 years.
[healio.com/orthopedics/journals/ORTHO/%7BBFFEB566-56F3-494B-B1C2-B30332D4925E%7D/Metal-on-Metal-Total-Hip-Arthroplasty-Causes-and-High-Incidence-of-Early-Failure]
There are 8,000 lawsuits alleging the DePuy ASR hip implant is defective and caused injuries. Approximately 6,000 federal suits have been filed into the multidistrict litigation as part of the : DePuy Orthopaedics, Inc. ASR Hip Implant Products Liability Litigation centralized before Judge David Katz in the U.S. District Court, District of Northern Ohio. The first trial is scheduled for May 6, 2013.
[ohnd.uscourts.gov/assets/Clerks_Office_and_Court_Records/MDL/2197/CMO-14.pdf]
Parker Waichman LLP continues to offer free legal consultations to victims of DePuy ASR and other metal-on-metal hip implant injuries. If you or a loved one experienced premature failure of your implant or other health problems associated with a recalled DePuy ASR Hip Implant or other metal-on-metal hip replacement device, please contact their office by visiting the firm's DePuy ASR hip implant injury page at http://www.yourlawyer.com. Free case evaluations are also available by calling 1 800 LAW INFO (1-800-529-4636).
Contact:
Parker Waichman LLP
Gary Falkowitz, Managing Attorney
(800) LAW-INFO
(800) 529-4636
http://www.yourlawyer.com