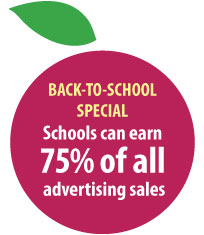 The more people know about MySchoolSwap.com, the more supporters a school can accumulate. The School Enrollment Program raises that awareness.
Gainesville, VA (PRWEB) August 23, 2012
MySchoolSwap.com, a new community advertising network that donates 50 percent of its advertising revenue to schools across the country, announces its School Enrollment Program. As a back-to-school promotion, any school or school-related group that enrolls in the Program will receive 75 percent of advertising sales from supporters. This promotion will run from September 1, 2012 to December 31, 2012 during the peak school fundraising season.
MySchoolSwap.com is a national classified advertising web site with a focus on schools and their surrounding communities. It stands apart from typical classified ad web sites by providing individual school pages for ad listings, and by donating a portion of advertising sales to schools.
The web site's business model is simple. Members choose any school to support when they join and buy credits to post ads in popular categories like For Sale, Real Estate, Professional Service and Handmade. A portion of the credit sales is then donated to their school. MySchoolSwap.com is an innovative way for fundraising leaders to generate revenue through a common necessity that many households and small businesses use already.
Checks are sent to a schools automatically once active supporters are established. While schools are not required to enroll to receive payments, the School Enrollment Program offers benefits that may increase profitability which include:
1. Customized marketing materials with school or group name
2. Payment issued to specific group like school PTO, booster club or organization
3. Promotional message on the school's individual page
The individual school ad listings page enables a familiar and convenient environment for exchanges and communication—yet advertisers also reach a national audience. Any school, club or organization dedicated to the enrichment of children can be added to the MySchoolSwap.com expandable database and designated for payment.
Not only is this new network a resale marketplace and promotional outlet with a meaningful purpose, it also serves as a free communication tool for promoting fundraisers or recruiting volunteers. MySchoolSwap.com offers free ads in the School and Community category which includes School Events, Fundraisers and Sports Leagues.
As a fundraising tool, MySchoolSwap.com can serve as a low-maintenance addition to any traditional fundraising program. There is no collection, product distribution or monetary management required. Promotion is the only recommended action and all necessary materials are provided or can be downloaded at MySchoolSwap.com/Downloads.
The following scenario illustrates the potential earnings for a single school during this back-to-school promotion. If a school has 100 supporters from a pool of parents, extended family and local small business owners who each buy $40 dollars in credits, the school would earn $3,000 dollars. MySchoolSwap.com is an ongoing, year-round program so repeated activity would create a regular stream of revenue. Checks are sent to schools three times a year.
"The more people know about MySchoolSwap.com, the more supporters a school can accumulate. The School Enrollment Program raises that awareness." says Cathy Shalvey, co-founder and president.
For more information about the School Enrollment Program, visit MySchoolSwap.com/ForSchools. To connect with My School Swap, LLC call (703) 754-8410 or visit http://www.myschoolswap.com.
About MySchoolSwap.com
MySchoolSwap.com is a community advertising network that sets itself apart from typical classified advertising web sites by donating a percentage of revenue to schools and by providing a national network for the school community. It first launched in beta test phase during January of 2012. Within the first four months of operation, the company sent payments to seven schools in two states. My School Swap has an expandable database of 134,000 preschools, elementary and secondary schools across the United States to include public and private. My School Swap, LLC was founded by Cathy and Tim Shalvey of Gainesville, VA and is supported by an Advisory Board with expertise in areas of internet privacy law, search engine optimization, affinity marketing and education. More information about the leadership team can be found at http://myschoolswap.com/about/our-story.aspx
###