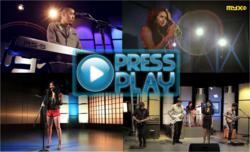 Get on it. Get played. Get famous.
Redwood City, CA (PRWEB) August 22, 2012
Are you an independent artist looking for more exposure? Here's some good news: Myx TV, the premier Asian American entertainment network in the United States, will bring independent artists to the stage, with 10 million households in the audience through its show, Press Play. Join the network's second season of Press Play where the stakes are higher, the competition is fierce, and the grand prize can be superstardom. The submission period for applications is open through September 14, 2012.
Press Play is looking for artists who are not currently signed with a major record label who want to showcase their original music. Bands, duos, or solo acts of all ages, races, and genres of music are encouraged to "get played" on nationwide broadcast television, by garnering the most votes by viewers and fans.
To apply, visit http://www.myx.tv or fill the online form at http://myx.tv/shows/press-play and submit a video of your song that best represents you or your band. Music videos or recorded performances are welcome.
Winners will be flown in from any city of the United States to have their song professionally recorded and shot at the Myx TV studio. Prizes also include a chance to perform centerstage on nationwide TV. Winners' performances will premiere on the show, along with the music of five runners up for each week's episode.
Myx TV's looking for stars and wants you to take the mic. For more information, email PressPlay(at)myx(dot)tv or follow @myxtvpressplay. Get on it. Get played. Get famous.
###
ABOUT Myx TV®:
Myx TV is the premier Asian American entertainment and lifestyle cable network in the United States. Dedicated to airing the best in entertainment, Myx TV's programming is a unique combination of original and syndicated shows, including magazine talk shows, interactive music video countdowns, independent film and Asian cinema, and animation, airing 24/7 in English. Broadcast in over 10 million households across the country it provides a platform for Asian Americans on mainstream television and is also represented on its official website by a community of bloggers from coast-to-coast. To find Myx TV in your area and for exclusive content online, visit http://www.myx.tv.