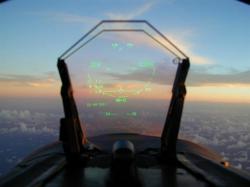 "It is very interesting to see Greentree using the heads-up methodology, automatically providing the user with the latest operational and financial data to make the best operational decisions."
Ted Wright
Retired RAF Squadron Leader
(PRWEB UK) 23 August 2012
3D Live anticipates the information a user requires at any time, and delivers it without the need to search.
How to describe it? Think of it like the heads-up visual display, first developed for fighter pilots so they could view key data without having to look down at their instruments. Users can pre-define which pieces of information they want to see, and they'll open automatically. If the user wants to see more, the relevant panel expands with a single click. Whether it's a customer, an inventory item, account details or work in progress, everything is there, and can be displayed on one screen or on multiple monitors.
The result: less time spent drilling for information and more on servicing customers, generating sales or following up inquiries.
But who better to review 3D Live than a real fighter pilot?
Retired RAF Squadron Leader Ted Wright has over 3000 hours' flight experience.
"The fast jet community has been using heads-up displays for years, to represent extremely complex and rapidly changing situations in a high-stress environment such as combat operations," he says. "It is very interesting to see Greentree using the methodology in the world of business software, automatically providing the user with the latest operational and financial data to make the best operational decisions."
UK companies are quickly discovering Greentree's 3D Live, and here's what some early users have to say.
Deben Group Industries Ltd, a UK distributor of outdoor lifestyle equipment, is delighted with the way 3D Live has improved their efficiency within the sales order processing, picking, packing and distribution.
"They love it down in their Stores department," says Martin Craze, Director of Greentree partner, Applied Business Computers Ltd, which implemented Deben's system. "An order appears on the screen, it gets picked, they finalise the packing slip and the job is done. If there's any stock variance they just amend it at that point, and the Sales department upstairs can monitor the progress of the order simultaneously."
Stahmann Farms is a major pecan nut grower and processor, exporting to the USA , Europe, Asia and New Zealand. It stores thousands of tonnes of raw nuts in numerous different locations. 3D Live was configured to show not only what is stored where, but whether a particular item has been cleared for sale.
"Because we're a food manufacturer our quality control is very important," explains Roland Longmire, Stahmann's CFO. "Our products can't be sold unless we're certain that they've been cleared from quarantine – or what we call Active.
"With 3D Live, we can see instantly which products are still Quarantined and which are Active. This sort of information is crucial for our sales team and our purchasing manager."
Also using 3D Live is ABCO Corporation, based in the US state of Virginia, serving equipment and supply needs of restaurants, hotels, schools, healthcare facilities, military and government agencies since 1968. Its staff can now view buyer history instantly when processing orders.
"Greentree's 3D Live desktops display sales orders, picks and related customer information," says Jeremy Freeman, ABCO's VP Operations. "They're also absolutely necessary to managing our routing process all the way through to invoicing.
"3D Live gives us the kind of visibility that no business can do without today, when it comes to giving its customers the best service possible."
Watch a video demonstration of 3D Live here.