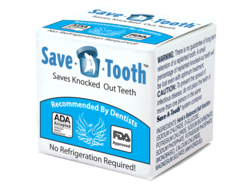 The Save-A-Tooth should be purchased ahead of time and ready to preserve knocked out teeth
Wayne, Pa (PRWEB) August 23, 2012
The article in Inside Dentistry, written by Dr. Paul Krasner, Professor of Dentistry at Temple University School of Dentistry, describes a new philosophy for the treatment of knocked out teeth. "The dental profession has changed its philosophy from reactive to proactive by recommending that their patients be prepared for the accident by purchasing Save-A-Tooth® systems ahead of time," he says.
In this article, Dr. Krasner points out that there is a short window of time, 60 minutes, during which knocked out teeth must be placed in an rejuvenating and protective environment while being transported to a dentist in order to be optimally prepared for their reimplantation. If they are placed in a Save-A-Tooth within this time, the knocked out teeth will die.
When an accident occurs, like at home, in an automobile accident or sports event, there isn't time to go and find a Save-A-Tooth®. "Sometimes there are more serious injuries, like punctured lungs or eye injuries that require prior care," he says. "This why parents, school nurses, emergency medical technicians and athletic trainers need to be proactive regarding knocked out teeth," Dr. Krasner adds.
"When a Save-A-Tooth® is used, the teeth can safely be stored for twenty-four hours, allowing for the more serious injuries to be taken care of," says Dr. Henry Rankow, Professor of Dentistry at Temple University, School of Dentistry. For example, if the patient can be stabilized, the knocked out teeth can be reimplanted later. This is why all ambulances should have a Save-a-Tooth® in their emergency supplies."
There are over five million teeth are knocked out annually in the United States and Canada during sports and school playground activities, automobile accidents and in the home. With the use of the "Save-A-Tooth® system," over 90 percent, or 4.5 million, of these teeth can now be stored, transported, successfully reimplanted and saved for life.
Without this scientific device, only ten percent of knocked out teeth can be successfully retained after being reimplanted. The cost of replacing only one knocked out tooth that can't survive after being reimplanted is at least $3,000 initially and $30,000 over a lifetime; Three knocked out teeth can cost three times as much.
Dr. Rankow, Professor of Dentistry at Temple University, compares Save-A-Tooth® with an EpiPen. "When a severely allergic child is stung by a bee, if an EpiPen is not available immediately, the child may die. The same situation exists with knocked out teeth. The Save-A-Tooth® must be available ahead of time in home first aid kits, like the Complete First Aid kit, sports team training bags, hospital emergency rooms and ambulances, " he recommends.
About the company:
Phoenix-Lazerus, Inc. manufactures and distributes the Save-A-Tooth® system and the Complete First Aid kit. It has been in business since 2001 and is dedicated to producing products completely made in the USA with 100% USA-made parts. It is also the tooth transportation system in the Store-A-Tooth system, the leading transporter and cryogenic storage system for dental stem cells.