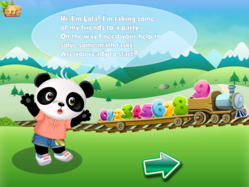 Sacramento, CA (PRWEB) August 22, 2012
Today, the developers of the popular Lola Panda games have reached their first pivotal milestone: Apps from the Lola Panda suite have been downloaded on 1 million devices. BeiZ Ltd has been entertaining and educating children worldwide with apps available on iOS, Mac OS, Android, Amazon Kindle Fire, Nintendo 3DS/DSi, and Windows Mobile.
BeiZ Ltd started the Lola Panda games three years ago with the launch of the first globally successful game in the series, Lola's Alphabet Train. As Lola became an international hit, reaching high ranks within many of the App Stores, so began the development of other apps such as Lola's Beach Puzzle and the newest Lola's Math Train.
"It was very critical for us to create a polished concept and great artificial intelligence. Children between 3 and 8 years old have totally different kinds of starting points and they enjoy different kinds of challenges when they start playing the games," adds BeiZ's producer Miska Fredman.
Over the course of the past 3 months, more than half of the overall downloads came from Lola's Math Train, an engaging and educational app that focuses on 15 different basic math games. In each level children are challenged to complete various equations like addition, subtraction, solving puzzles, sequencing and matching.
"The monthly growth for the games continues to be over 10 percent and we are expecting to reach two million downloads in just a few months. The fantastic feedback, happy customers and great reviews from respected sources such as Wired.com, have helped us to achieve all this," explains CEO Mika Heikinheimo.
Lola's Math Train Lite can now be enjoyed with iOS- and Android-updated versions that make the game sleeker and more engaging than ever before. Download free versions of the game from here!
Lola's Math Train Lite (iPhone, iPad):
http://itunes.apple.com/us/app/lolas-math-train-lite-fun/id529720159?mt=8
Lola's Math Train Lite (Android):
https://play.google.com/store/apps/details?id=com.beiz.lolasmathlite&feature=search_result#?t=W251bGwsMSwyLDEsImNvbS5iZWl6LmxvbGFzbWF0aGxpdGUiXQ
About BeiZ Ltd:
BeiZ Ltd is a game studio that concentrates on providing enjoyable educational solutions and non-violent games for children and adults. BeiZ Ltd also assists its partners in publishing their games and mobile content. Please visit http://www.lolapanda.com for more information.
For Press Inquiries, please contact,
Paige Kirchubel
Appency for BeiZ, Ltd.
paige(at)appency(dot)com
916-835-4613
Facebook: http://www.facebook.com/lolapanda
###