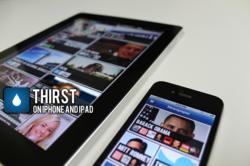 San Francisco, CA (PRWEB) August 22, 2012
Thirst Labs, provider of the leading mobile application that transforms the Twitter experience, today announced today the launch of Thirst 1.2. Like earlier versions of Thirst, version 1.2 leverages proprietary Natural Language Processor technology to search and index millions of tweets in real time.
Thirst is the only app that allows users to engage in Twitter on their own time, collecting, reading and responding to tweets that are relevant to them. The regular lifespan of a tweet is just minutes or hours, making it easy to miss updates if users are not constantly connected to Twitter. With Thirst, Twitter users can see all of their unread tweets about the topics they care about regardless of whether they were posted minutes, hours, or days ago.
News Facts:
· Thirst 1.2, now available for both iPad and iPhone, adds new stability and performance enhancements, including the ability to:
○ Create multiple accounts and tweet from different accounts at the same time
○ Bookmark tweets to read later, and sync these saved tweets across all devices using Thirst
○ Save tweets in private offline mode so users can read and respond at a later time
○ View tweets in new featured sections such as Major League Baseball, NFL, and gaming – joining other popular categories such as US Elections, Music and Fashion.
Growth Opportunity:
· More than 460,000 Twitter accounts are created every day, with 140 million active users that are publishing more than 340 million tweets a day.
· An estimated 55% of Twitter users share links – making Twitter the world's largest source of information.
· 71% of Tweets receive no response from followers; most Twitter users miss the vast majority of content – utilizing Twitter in a disorganized, haphazard way.
Thirst solves this problem, turning Twitter into an organized, relevant information stream.
Quotes:
· "Thirst Labs remains focused on the potential for Natural Language Processing to help extract value from vast amounts of information being shared through social media. Today, Twitter is the dominant platform for this type of content. Regardless of how the social media landscape evolves, we see a long-term demand for sorting and organizing the continually-expanding pool of information being shared online." – Anuj Verma, CEO, Thirst Labs
· "Most people don't watch their Twitter streams constantly, so often important updates and links to relevant information are missed. Thirst 1.2 finds, filters, and saves all the Tweets that matter to users, letting people engage with Twitter their own way, on their own time." – Jonathan Ebinger, General Partner, BlueRun Ventures
About Thirst Labs
Thirst Labs transforms the Twitter experience, turning Twitter into an organized, relevant information stream. Thirst Labs was founded by Anuj Verma and Kunal Modi, UC Berkeley graduates specializing in UI, UX, algorithms and architecture. Winner of first prize at the 2012 SXSW Accelerator Competition in the social category, the company's investors include BlueRun Ventures, Steve Newcomb, and Jason Krikorian. Thirst Labs is headquartered in San Francisco, Calif. For more information, visit thirst.co.
Resources:
Download Thirst app
Thirst Labs website (links to screenshots and logos)