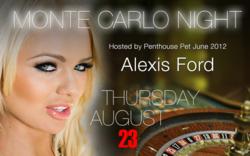 Guests can look forward to getting up-close and personal with their favorite Key Girls
San Francisco, CA (PRWEB) August 22, 2012
San Francisco gentlemen's club Penthouse is holding a night of playful, risk-free, but still sexy casino games with Monte Carlo Night Thursday, August 23 from 8 pm until 2 am. June 2012's Penthouse Pet Alexis Ford is the special guest host for the night along with other Key Girls of the club. The starlet is also available for signing autographs during the event.
"Guests can look forward to getting up-close and personal with their favorite Key Girls," said Axel Sang, marketing director of Penthouse Club and Steakhouse. "The friendly competition should make for a laid back yet fiery atmosphere."
Craps, Roulette, Blackjack.Texas Hold'em. and Pai Gow are the games of the night. Guests are welcomed to flex their talent or practice something new. Sick of approaching the gorgeous Key Girls with nothing interesting to say? Now's the perfect time to show off those high-roller skills!
The two-story, 15,000 square foot luxury adult entertainment hub is being transformed into the ultimate adult playground for the night. For one night only, Penthouse is holding the best of both worlds behind its opulent walls.
Alexis Ford is June 2012's Penthouse Pet and her perfect body was also featured as cover girl for the month. The 22 year old New York native has starred in dozens of adult films and is best known for girl-on-girl scenes.
The classic American steakhouse boasts the privilege of having the largest champagne cellar in California. For more information or to make reservations for VIP bottle service, visit http://penthousesf.com/bottle-service/ or call (415) 391-2800 and is located at 412 Broadway Avenue in San Francisco's North Beach neighborhood. The adult entertainment venue also hosts corporate events, birthdays, anniversaries, holiday parties and other private events.
About Penthouse Club and Steakhouse San Francisco
The Penthouse Club and Steakhouse San Francisco has taken upscale adult nightlife in San Francisco to an entirely new level. Featuring the top exotic dancers from around the country, the 15,000 square foot San Francisco gentleman's club combines the best in adult entertainment with some of the finest dining in the City—including mouthwatering steaks, seafood and pastas prepared by Michelin Star-rated chef Michael Ellis.
The Penthouse Club and Steakhouse's distinctive design features include a massive 20-foot tall video wall, LED light curtains, gigantic, see-through champagne display cabinet, video-embedded cocktail tables, intimate private dining booths, and a refrigerated and illuminated ice rail built into the main bar to keep guests' drinks cold.
Bottle service and dinner reservations can be made at http://www.penthousesf.com or Open Table, call (415) 391-2800. Lunch is available without a reservation. The Penthouse Club and Steakhouse is located at 412 Broadway Avenue in San Francisco's fabulous North Beach neighborhood.