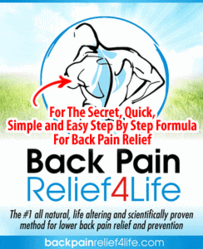 People are fed up with the trauma associated with back surgery once they see what little results it produces.
(PRWEB) August 25, 2012
BackPainRelief4Life.com has been co- developed by Ian Hart, B.S., C.S.C.S. The program, which sells for $47.00, is an alternative option for people suffering from chronic pain and/or multiple back surgeries. The online program comes with a 60 Day money back guarantee and access to the program's videos is immediate.
"There are many ways to spin my product to the media," said Ian Hart. "But, there is no point. The product is selling itself and helping many Americans. People are fed up with the trauma associated with back surgery when they see what little results it produces. I won't even start on the many issues linked to the consumption of pain medication."
One of the many happy clients who purchased the BackPainRelief4Life.com program said, "Before Back Pain Relief4Life I went to a spinal surgeon and was diagnosed with spinal stenosis and arthritis in my back. I went through physical therapy but I still had some pain in my back." After trying the program for the first time the client, Jan, couldn't have predicted such a drastic result. "I've had really no pain. In fact, I did have a flare up one day but the next morning I did the program and that afternoon I was feeling fine."
BackPainRelief4Life.com's online program consists of The Back Pain Relief4Life CORE TRAINING VIDEO and Travel Pamphlet, 9 Video "Coaching Sessions" For Back Pain Relief, "The Cubicle Cure", plus a private 15 minute "Back Pain Coaching Call."
"My program requires about twenty minutes of commitment per day- a couple of days per week," Hart continued. "Considering the cost and the time commitment, there is no reason on Earth why someone with back pain shouldn't try my program. I mean, they have nothing to lose. If they aren't 100% happy then I will give them their money back."
Members of the media are invited to apply for a gratis copy of the BackPainRelief4Life program.