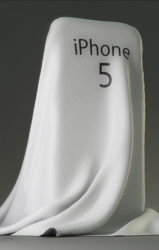 One great thing Deserves Another
Toronto, Ontario (PRWEB) August 22, 2012
iSkin, a premium brand for fashion and technology lifestyle accessories, launched a new online notification page that lets users sign up to be notified of the latest products for the upcoming iPhone 5. iSkin has also incorporated a contest which gives participants a chance to win the new iPhone when it is released.
The next-generation iPhone is expected to be an exciting and innovative product. iSkin, celebrating its 10th year of bringing fashion cool to the Apple industry, will be launching a series of products specially designed for customers seeking unique, innovative and fashionable ways to dress and protect their new iPhone 5.
"With each generation of Apple products brings heightened customer expectations for new and cool accessories. We're pretty committed to that fact since 2002. We're all working really hard to make our next lineup of products as trend-setting as they are exciting—products our customers will just fall in love with," says Andrew Ackloo, CEO of iSkin.
New iSkin products for the iPhone 5 are expected to be available shortly after the next iPhone is announced. To sign up for iSkin product notifications and to enter the contest, visit: http://www.iskin.com/iphone5.
iSkin Inc. has been one of the world's most trusted mobile accessories brands since its first advanced protective solution for the iPod® in 2002. Known for its cool, innovative designs and fashion-forward style, iSkin continues to be the leading mobile accessory brand.
iSkin Inc. is one of the first companies to start advanced protective solutions with fashion-forward style for mobile devices since the birth of the iPod® in 2001. iSkin has earned the reputation of being one of the most trusted mobile accessories brands by focusing on delivering the highest quality, innovative design and fashion-forward style.
The iSkin word mark and logo are registered trademarks of iSkin Inc., registered in Canada, the United States and other countries. All Rights Reserved 2006-2012.
For additional information on this and other iSkin products, please contact iSkin PR at press at iSkin dot com or at (416) 924-9607, ext. 248. Follow iSkin on Twitter and Facebook.