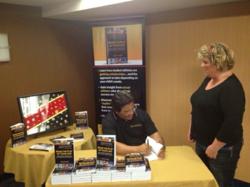 There is nothing worse for a student than to find out later that he could of had a scholarship.
Cypress, CA (PRWEB) August 21, 2012
Make the Play of Your Life is a one-of-a-kind seminar presented by college athletics and scholarship expert Steve Daguio is scheduled for Cypress, CA on August 28, 2012 at the Marriott Courtyard Cypress located at 5865 Katella Ave in Cypress, CA at 7 p.m. The seminar fee is $99 for both parents and student. For reservations call 714-264-0678.
The college sports and scholarship seminar helps parents and student athletes understand how the college athletics system works and why it is important to understand how to work through the system to accomplish a positive outcome. Mr.Daguio has been presenting this information since his own personal experience with his two sons and their years in college athletics.
Steve is also the author of the book "Make the Play of Your Life" which has helped thousands of parents and students with the college athletic programs and processes.
Steve has this to say, "My seminars are helping students athletes enter into college athletics knowing there is a powerful outcome. Scholarships do not end at Division I. There are scholarships in II, III and NAIA left on the table every year. Once the parents and students are able to understand the processes from start to finish it can make a huge difference in the student's future. I'll share stories with the attendees that give them a real life perspective on college sports."
Some of the information presented:

Learn how student athletes are getting scholarships…and the approach to take
depending on your child's needs.

Discover ways to overcome "myths" associated with sports that usually hold
kids back from reaching their goals.

Explore options and choices you may not have investigated, including when to
bring in a specialty coach.

Find out what counselors and coaches may not have shared with you.
Here is what Blake Davis of the Baltimore Orioles has to say, "I decided Cal State Fullerton was best for me even after a lot of people close to me told me that I would never get to play there. I used their words to motivate me to prove them wrong. I know the information that Mr.Daguio presents is the most important and least known about college athletic programs."
TO REGISTER FOR THE SEMINAR
For reservations call 714-264-0678
August 28, 2012
Starts at 7 p.m.
Marriott Courtyard Cypress
5865 Katella Ave
Cypress, CA 90630
The total seminar fee is $99 per family including a copy of the book.
ABOUT STEVE DAGUIO
Stephen Daguio grew up in the Hawaiian Islands with his large family, who lived and worked on a pineapple plantation. He graduated from Radford High School on Oahu, and later attended college in southern California. He is an experienced public speaker and has trained thousands of people in marketing, sharing the training stages with icons in marketing like Lee Iacoca and Brian Tracy. He has also attended many training sessions, led by such business notables and legends as Tony Robbins, General Schwarzkopf, Debbie Fields, Barbara Bush, Zig Ziglar, Peter Daniels, and Les Brown.
Stephen has been an avid enthusiast and participant in sports for most of his life, both as a player and as a coach. Today, Stephen resides in southern California.